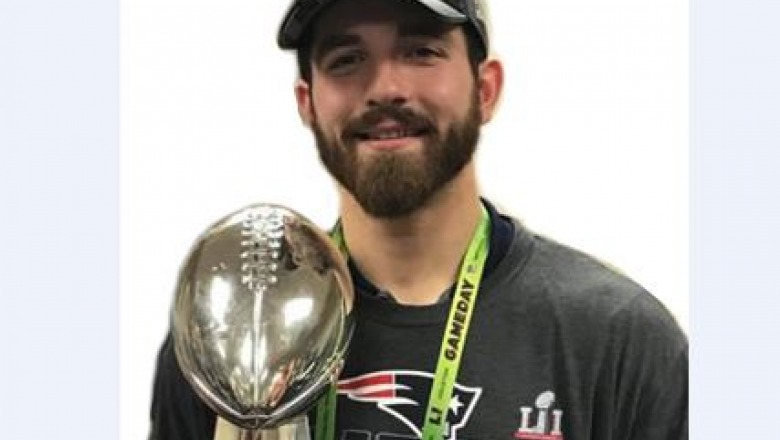 With his view from the Super Bowl LI sidelines last month, Fitchburg State alumnus and Billerica native Lee Maniff '14 got to experience one of the greatest comebacks in professional football history when the Patriots surged from a 25-point deficit to defeat the Atlantic Falcons in overtime.
"Even now it seems unbelievably outrageous to me," he said. "Sometimes I can't help but stop what I'm doing and remember. It doesn't seem like it was real."
Maniff, 25, has made his own contributions to the Patriots as a seasonal assistant trainer since 2015. He brings the same passion, intensity and attention to detail to his work helping to ensure the players' health as the team does to winning.
Work and Family
Maniff found his calling while a student at Fitchburg State, where he studied exercise and sports science with a concentration in exercise physiology. In his sophomore year he was interviewing for an office work-study post when departmental administrative assistant Cheryl Sarasin suggested he may get more out of working with the Fitchburg Falcons' athletic trainers, Todd Souliere and Rebecca Shersnow. That night he was on the sidelines for the Falcons' football game at Elliot Field. "I loved the intensity," he said.
The athletic trainers at Fitchburg State connected him with alumnus Devan McConnell '08, the ice hockey performance coach at UMass Lowell. Maniff secured an internship at UMass Lowell that afforded him a close look at the culture of intensity that accompanied the hockey team's success.
After graduating from Fitchburg State, Maniff continued his education at Bridgewater State and landed a seasonal athletic trainer position with the Patriots in October 2015. Despite the fame and accolades the team has accrued, Maniff said the players are genuine and down to earth, and appreciative of the work he and his colleagues perform to help them excel on the field.
"I can't stress enough the character of all these guys," said Maniff, noting that quarterback Tom Brady and tight end Rob Gronkowski were among the first players he met at Gillette. "They're so famous, but they couldn't be more endearing with everything they say. It's a huge family here."
With the Patriots, Maniff is part of the massive entourage that accompanies the team on all road games as well as practices at Gillette Stadium in Foxboro. The organization includes dozens of players and coaches, with a staff of strength and conditioning coaches, trainers, scouts, medical professionals and dietitians. A typical road trip includes six coach buses, he said.
Maniff works 12-hour days during the regular season, arriving at the stadium by 6 in the morning. The long hours are just one difference he sees between college and professional football. Injuries are handled differently, including the use of all of the latest protective and rehabilitative technology available. His goal is to help athletes avoid injuries and recover quickly from them. "The average NFL career is about three years," he said. "The health and training lessons I'm trying to teach ideally extend well beyond the football field over a person's lifetime."
Maniff implements strength and agility programs developed by the senior athletic trainers. "I want to make sure players move as efficiently as possible on the field," he said. "I'm looking at the details. I want to make sure we're fine-tuning every aspect of their conditioning."
Though his post affords him an enviable view of the football field, Maniff's attention is elsewhere during the games.
"I wish I could say I watch each play in-depth, but my job really is to make sure these guys are safe, these guys are comfortable," he said. "If the players reach their goal, I know I've reached my goal."
Super Bowl Glory
The Patriots played a dominant season in 2016 en route to Super Bowl LI in Houston. Being inside the activity of the event was another amazing experience for Maniff. His mother had never flown on a plane before, and her proud son was able to get her a seat on a chartered jet to Houston for the big game. He was also happy to have his girlfriend, Laura, accompany him on the trip.
"They had the time of their life," Maniff said. "Everything in Houston was the Patriots and Falcons. The city did a great job at hosting.
The electricity in the air carried over into the game, an instant classic that saw the team head into halftime at a major scoring deficit. In the locker room during halftime, however, Maniff said the mood was not dejected. Instead, players were talking about what a crazy story would be told the next day as a dramatic turnaround took shape. Maniff was a believer, and the fourth quarter – and overtime – was epic.
"Atlanta was prepared to win, but they weren't prepared to finish. And that was clearly the difference," Maniff said. "The moment (defensive linebacker) Dont'a Hightower stripped the Falcons' quarterback and recovered the ball with three minutes left in the quarter, you felt a little bit of adrenalin."
The momentum had shifted, and the surging Patriots kept scoring until the thrilling overtime win, a moment that is still being replayed by jubilant Patriots fans. It was surreal for Maniff, who was on the field as the celebratory confetti rained down.
"I tried to capture the moment," he said. "It was a dream, and I was able to share it with my mother and my girlfriend. It was incredible."
Maniff is still with the team, but open to looking at new opportunities within the arena of sports medicine, perhaps in a hospital setting. "This was the end of my second season, and I can walk away from the NFL knowing I was a part of the greatest accomplishment possible," he said. "I have more energy than I can possibly describe, and I have a lot of aspirations that I'd like to pursue. I owe it to myself to take some chances and see what else is possible."
His experience with the reigning champions has taught him that dreams, fueled by determination, can come true.
"With a ton of work," he said, "anything is possible."