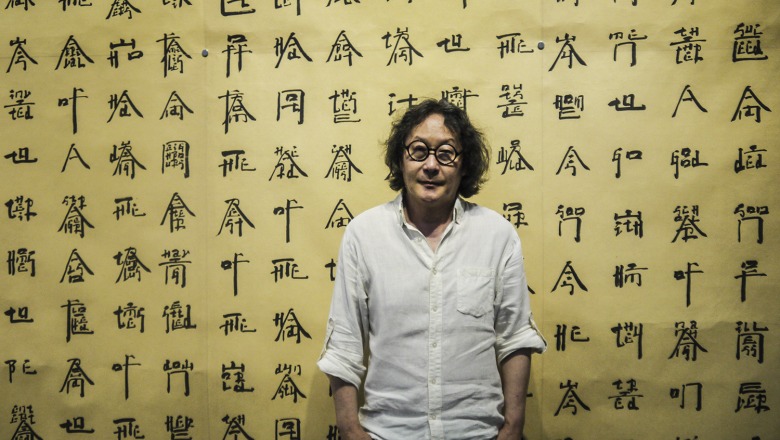 Dragonfly Eyes
.
Dragonfly Eyes is a feature-length film he assembled from surveillance camera footage taken in China. that he shaped into a unique, scripted, "romantic" story between a man and woman. The film has been screened at the New York Film Festival, the Toronto International Film Festival and other exhibitions.
One of the most accomplished artists in China, he has exhibited widely in the U.S. While living in the U.S. he won a MacArthur Genius Grant in 1999. After his return to China, he was vice president of the Central Academy of Fine Arts in Beijing, where is now a professor and director of the academic committee. His calligraphic work, collected by major museums, was recently shown in an exhibit of Chinese art that just closed at the Guggenheim Museum in New York. He is pictured here in his studio with his work Square Word Calligraphy, in which all the calligraphy is made of English words.
The lecture series is supported by funding from the university provost's office.
A trailer for Dragonfly Eyes is available online.
The Communications Media Lecture Series continues at 3:30 p.m. Tuesday, March 6 at Ellis White Lecture Hall, with world-renowned multimedia artist Xu Bing presenting excerpts from his latest project, an as-yet-unreleased experimental fiction film called