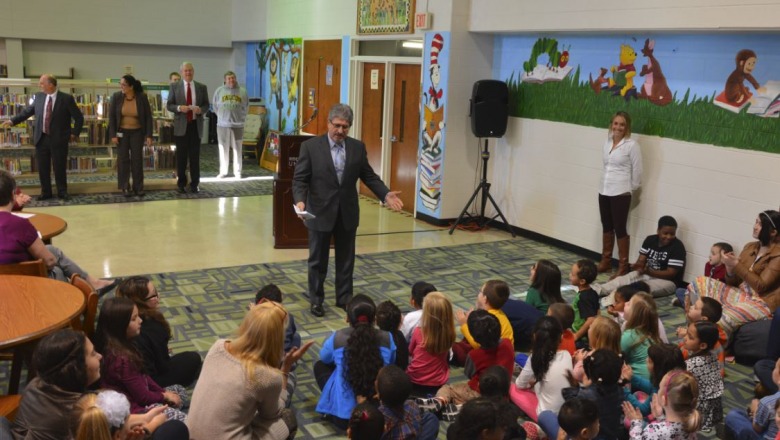 The library at the McKay Arts Academy recently underwent a comprehensive renovation and restructuring thanks to months of effort from the staff of Fitchburg State University's Amelia V. Gallucci-Cirio Library.
The McKay Arts Academy is a preK-8 school on the Fitchburg State campus, serving approximately 700 students. The renovated library had a grand opening earlier this month, with speakers including President Lapidus, Superintendent of Schools Andre Ravenelle, Fitchburg Mayor Stephen DiNatale, interim Dean of the Library and Academic Support Centers Sean C. Goodlett and McKay Principal/Associate Dean Lourdes Ramirez.
Staff members from the Amelia V. Gallucci-Cirio Library spent the summer cataloging McKay's holdings and organizing the renovated space into a workable lending library. The library space was also redesigned with new carpeting and replacement furniture.
"McKay is an important component of Fitchburg State University, a unique resource for our teacher candidates and a source of great pride for the school," said Lapidus. "This collaboration builds on a strong foundation connecting the University with the wider community."
"Fitchburg State is a tremendous partner, and this project is emblematic of the collaborative spirit between the campus and the Fitchburg Public Schools," said Ravenelle. "On behalf of all our students, I'm grateful for the University's ongoing assistance and resourcefulness."
Goodlett said the project involved moving more than 5,000 books from McKay to the main campus for review. Outdated or damaged materials were replaced, and thousands of newly cataloged books were brought back to the school and properly categorized and then shelved.
All of the McKay items were also folded into a new online public access catalog that is linked to the University's computer system, Goodlett added.
Goodlett credited the work of library staff members Patricia Langevin and Nancy Turnbull, among many others, as well as Doug Thomas and Heidi Messing from the University's Office of Capital Planning and Maintenance, for the hundreds of hours of effort involved in rebuilding the McKay library.