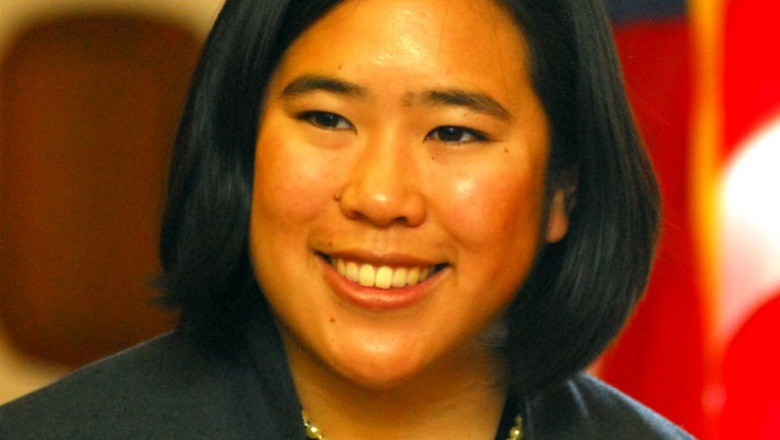 winter ceremony
at 6:30 p.m. Friday, Dec. 18, in recognition of her many contributions to the community.
The ceremony will be held at the University's Athletics and Recreation Center, 130 North St. The University will award more than 350 undergraduate and graduate degrees this winter.
"We are honored to recognize Mayor Wong's accomplishments and legacy during our winter commencement ceremony," Fitchburg State President Richard S. Lapidus said. "Among her many achievements, the mayor has been a strong force in bringing the University and city closer together."
Lisa A. Wong is completing her fourth term as mayor of the city of Fitchburg. She was elected to that office in November 2007 at the age of 28, and is the first minority mayor in Fitchburg and the first female Asian American mayor in the Commonwealth of Massachusetts.
As a strong fiscal manager, Mayor Wong built up the city's stabilization fund from $20,000 to over $5 million, lowered crime through innovative partnerships, improved the schools and redeveloped the city by attracting investments back into mills and the downtown. She is a leader in conservation efforts, setting aside over 1,700 acres for permanent conservation and building parks and trails along the Nashua River, allowing for more tourism, as well as enjoyment by the citizens of Fitchburg.
Mayor Wong grew up in Massachusetts and attended Boston University where she received a dual bachelor's degree in international relations and economics, and a master's degree in economics. She began working for the Fitchburg Redevelopment Authority in 2001 and became the agency's executive director in 2004. In that role, she managed several urban renewal projects to revitalize Fitchburg, such as the redevelopment of a former General Electric facility into a modern business complex.
Mayor Wong has become known throughout the state as one of the most effective leaders in economic restructuring, environmental affairs, and redevelopment projects and was recently asked to head the Gateway Cities Initiative statewide. She is married to Anthony Soto and stepmother of four children, including two who are currently serving in the Marines. 
Fitchburg Mayor Lisa A. Wong will be awarded the President's Medal at Fitchburg State University's 119th commencement exercises