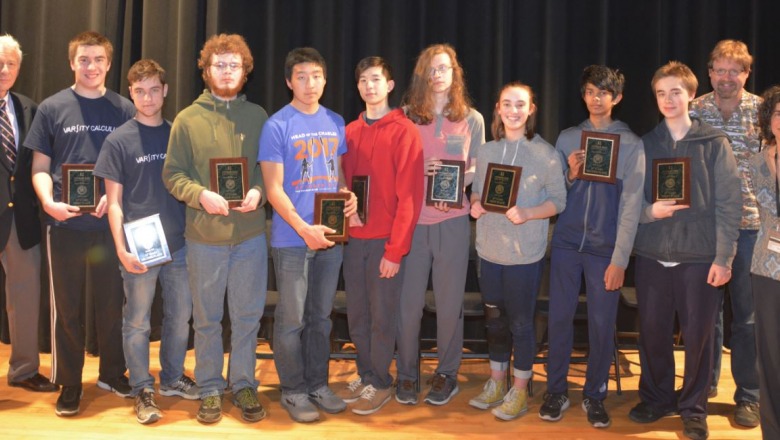 Fitchburg State University recently hosted the 38th annual Elizabeth G. Haskins Mathematics Competition, bringing hundreds of competitors from 13 area high schools to the campus.
The competitors took an exam before lunch, followed by an awards ceremony where the high scorers from grades 10, 11 and 12 were recognized.
The day concluded with presentations by Fitchburg State math students and faculty.
A sample question from the day's exam: The numbers x, y, and z are, respectively, 3, 4, and 7 times the same number. The sum of x, y, and z is 140. If y is given by y = ax – 20, then what is a? 3/2; 2; 5/2; 3; or 7/2. The answer is 2.
The day's top scorer, for the third year in a row, was Groton-Dunstable Regional High School senior Jacob Booth. Other winners included William Hughson (second place, grade 12) and Gardner High School senior Luke Fenner (third place, grade 12); Bromfield School junior Kevin Yu (first place, grade 11), Groton-Dunstable junior Dylan Han (second place, grade 11) and Bromfield School junior Ben Strazdus (third place, grade 11); Bromfield School sophomore Grace Acton (first place, grade 10), Groton-Dunstable sophomore Pranav Hari (second place, grade 10) and Nashoba Regional High School sophomore Nathan Haberle (third place, grade 10).
Also participating were Auburn, Clinton, Fitchburg, Leominster, Murdock, Narragansett, Oakmont, Sizer, and Montachusett Regional Vocational Technical School.