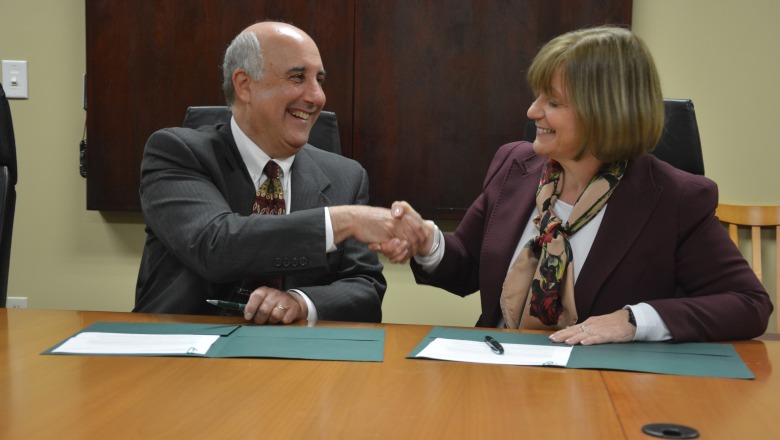 Through the leadership of Anna M. Clementi and the Clementi Family Charitable Trust, $1 million has been raised to support the new scholarship program.
The gift was announced by University President Richard S. Lapidus, who said the new scholarship program will help turn the world into a classroom for Fitchburg State students. When fully implemented, the fund is designed to boost the number of students in the University's faculty-led international programs by 30 percent over its first six years.
"Studying abroad creates better understanding of the global forces that shape our region and our world," Lapidus said. "Fitchburg State has committed to building on these international opportunities, and the transformative gifts we celebrate today will create countless opportunities for students. On behalf of the entire university community, I thank all of our donors, and in particular the Clementi Family Charitable Trust for their generosity and commitment to the success of our students. As our university embarks on its 125th anniversary year, this program exemplifies our commitment to preparing students to thrive as global citizens."
Anna M. Clementi, representing the Clementi Family Charitable Trust, has served on Fitchburg State's Board of Trustees for eight years and has been a stalwart advocate for the value of study abroad programs. As one of the founders of the University's Center for Italian Culture, Clementi had previously offered her personal support for international scholarships.
"I have witnessed firsthand the transformative power of travel for our university students," Clementi said. "These young people return with a greater sense of purpose, direction and confidence. It is my hope that all Fitchburg State students take advantage of all the experiential travel opportunities, and that high school students looking at colleges carefully consider this great travel experience as a unique advantage."
When fully implemented, the Global Ambassadors Scholarship Program will cover 50 percent of the costs for students to attend Fitchburg State's faculty-led international trips. Students will apply for the scholarship with the endorsement of faculty, and will be limited to sophomore, junior and senior class students and will target recruiting first-generation students and students with no previous international travel experience. Students from all majors and programs will be eligible.
One of the largest endowed gifts ever received by Fitchburg State University will create the Global Ambassadors Scholarship Program, opening doors for students to travel abroad for experiential learning opportunities.