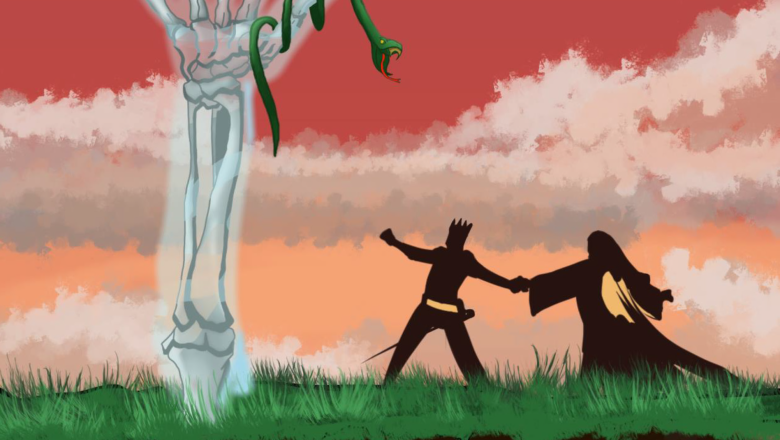 By Marissa Shea '23
After two years of social distance, facemasks, quarantining, and fear of the coronavirus, Fitchburg State University's Communications Media students are looking forward to the live debut of Rot from Beneath, a new play by Peter Anderegg. The production is being mounted as the department's main stage spring production.
Rot from Beneath offers a fresh take on Shakespeare's Hamlet by focusing on the perspectives of Claudius and Gertrude. The play is directed by Fitchburg State Professor Kelly Morgan, who also coordinates the university's theater program. Morgan said he is eager to see the audience's reactions to this original work. 
"It's exciting to see audiences see something for the first time rather than coming to compare it with other productions," Morgan said.
Rot from Beneath will be presented at the Wallace Theatre for the Performing Arts at the McKay Complex, 67 Rindge Road. Admission is free but donations will be accepted at the door. Face masks are still required on campus and visitors will be asked to attest they are free of COVID-19 symptoms.
Performances will be held at 7 p.m. Wednesday, March 16; 7 p.m. Thursday, March 17; 7 p.m. Friday, March 18; 2 and 7 p.m. Saturday, March 19; 2 p.m. Sunday March 20; 7 p.m. Wednesday, March 23; 7 p.m. Thursday, March 24; 7 p.m. Friday, March 25; 2 and 7 p.m. Saturday, March 26; and 2 p.m. Sunday, March 27.
Fitchburg State students in the new production's cast said they were excited to bring the new work to the stage.
"I think a rewrite of Hamlet with a sympathetic lens on Claudius and Gertrude is a very achievable endeavor," said Maribelle Flint, a senior from Harvard majoring in Communications Media with a concentration in theater. "I think people will have interesting responses to it."
Flint, who is playing Gertrude, said she is excited that this role will be her last hurrah as a Fitchburg State senior. 
Although the cast has faced many challenges due to the pandemic, one of the greatest benefits has been having more time to spend learning the script."Taking months to focus on the text has allowed for a unique opportunity for character crafting," said Flint 
John Sweeney of Winchendon, a junior in Fitchburg State's theater program, agreed that extra time helped the cast members. Sweeney is playing Claudius in the new play.
"This role means a lot to me, it's one of the most intimate roles I have ever played," Sweeney said. "I feel like this extra time is cultivating a more complex show." 
Playwright Peter Anderegg first encountered Hamlet in high school outside of Philadelphia. He acknowledged not caring for the play at first. "I thought Hamlet was indecisive and a screwup who gets everyone killed in the end," he said. "My teacher challenged me to do better." 
It was not until years later after he achieved a successful career as a Hollywood cartoon writer that he gained an appreciation for Hamlet. Rot from Beneath changes the perspective of the original play and focuses on the romance between Claudius and Gertrude. The play shows a different side of Claudius and makes the audience question whether or not he was fairly represented in Shakespeare's enduring classic. 
Others are just looking forward to performing live. Susie Freddie Timmons, a junior from Northbridge majoring in film and minoring in theater, will be making her debut on stage as Ophelia. She is confident in her ability to perform and excited to see the reactions of the audience. 
"I really hope we have a turnout and I hope that people are interested or at least give the play a chance," Timmons said. "Even if you don't necessarily like Shakespeare, seeing it performed by actors that understand it will help the audience understand it even more. I urge everyone to check it out."
Marissa Shea '23 of Winchendon is majoring in Communications Media with a concentration in professional communication.