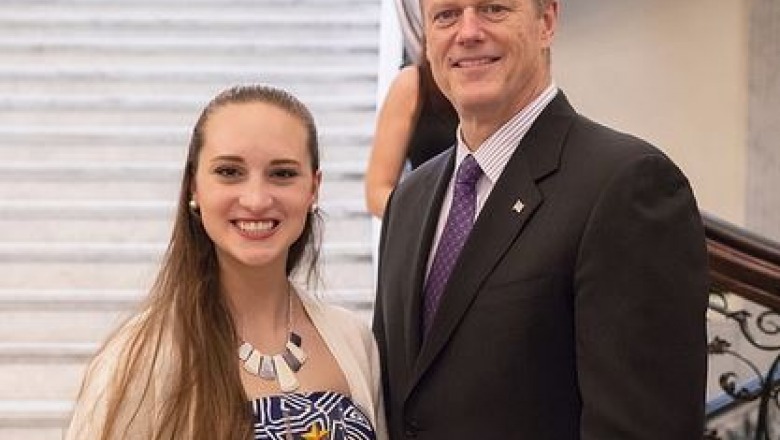 The annual event, organized by the Department of Higher Education, recognizes a standout graduating senior from each of Massachusetts' 29 public higher education campuses. Gov. Charlie Baker, Secretary of Education James Peyser and Commissioner of Higher Education Carlos Santiago were among the officials who celebrated the achievements of Massachusetts' students at the celebration.
Photos by from the event can be viewed here.
Magnarelli has distinguished herself as a scholar and student leader throughout her time at Fitchburg State. She immersed herself in the University's leadership development programs, taking part in retreats and helping train other students to maximize their own potential. As an orientation leader, she has helped incoming Fitchburg State students adapt to life on campus, and led by example through her involvement in a wide array of activities and organizations.
A dean's list student whose work has been selected for juried exhibitions, Magnarelli used her skills in film/video production to support a critical campus initiative – the University's updated sexual assault prevention and response course. Magnarelli produced videos with students, faculty and administrators delivering appropriate messaging surrounding issues like consent, legal and policy guidelines, and the importance of being a positive bystander. Her work will be the backbone of the University's updated course that all incoming students will take starting this summer.
Beyond that work, she has worked as the event services manager for the Office of Student Development, serving a vital role in the operations of the student-run campus center. A longtime gymnast, she joined Fitchburg State's Dance Club early in her Fitchburg State career and served as its publicity chair. She was also an instructor for the popular Dancing with the Staff show held each year.
Honorees are also encouraged to bring a faculty or staff mentor who has been instrumental to their success at the institution. Magnarelli selected Associate Dean of Student Development Hank Parkinson.
"I met Hank during accepted students' day, and ever since then he has always been there for me whenever I needed a mentor," Magnarelli said. "Without having him on campus I would not be anywhere near where I am today, and I thank him for supporting me since day one."
After graduation, Magnarelli plans to pursue a career in her field.
(29 Who Shine event photography by Nikki Cole)
Fitchburg State graduating senior Samantha Ann Magnarelli was honored at the Statehouse recently as one of the "29 Who Shine" in public higher education in Massachusetts.