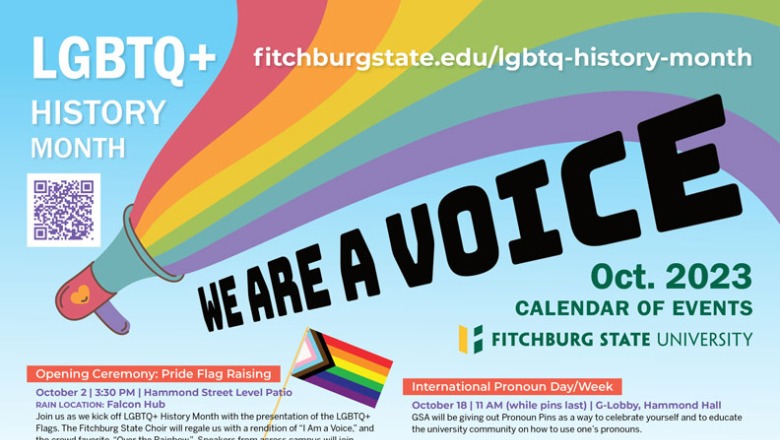 Fitchburg State University will celebrate LGBTQ+ History Month in October with a series of programs and celebrations organized around the theme, "We are a Voice."
The opening ceremony for the month will be held at 3:30 p.m. Monday, Oct. 2 with a Pride flag raising on the Hammond Hall street level patio. The Fitchburg State Choir will perform "I am a Voice" and "Over the Rainbow," and speakers from across campus will be sharing remarks. Refreshments will be served. In the event of inclement weather, this event will be held in the Falcon Hub inside Hammond Hall.
In conjunction with Banned Book Week, the Amelia V. Gallucci-Cirio Library will be featuring LGBTQ+ and Latinx titles on their main floor in Hammond Hall. The library will also be featuring a collection of digital titles on its website. 
Nationally known leadership speaker Michael Miller will deliver the month's keynote address, entitled "It's On All Of Us! What WE Can Do To Support Our LGBTQ+ Community Members," at 7 p.m. Wednesday, Oct. 4, in the main lounge of Hammond Hall. During this fast-paced session, attendees will share stories and learn more about other members of the university community and how to be someone who supports and champions LGBTQ community members. Visitors are encouraged to come prepared to learn, interact, and feel more confident in using your voice to support others. This program is sponsored by the university's Leading for Change Committee, and admission is free. There will also be ASL interpreters at the event.
Campus community members are also invited to join NoWoCo Pride for its 5th anniversary NoWoCo Pride Festival will be held from noon to 7 p.m. Saturday, Oct. 21 at Riverfront Park off Boulder Drive in downtown Fitchburg.
Additional campus events during the month will include drag bingo, an LGBTQ+ history trivia contest, and a "second chance dance" on Saturday, Oct. 28. Learn more about all the events and speaking programs at fitchburgstate.edu/student-support/diversity-equity-and-inclusion/lgbtq-history-month.