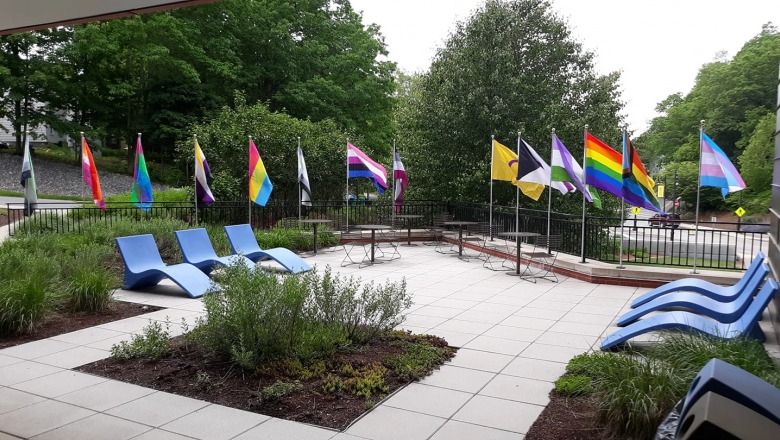 "Fitchburg State University will celebrate LGBTQ+ History Month in October with a series of in-person and virtual events created around the theme "We Are Everywhere." See the entire list of programs at fitchburgstate.edu/lgbtq-history-month.
The programs begin with a pride flag-raising ceremony and poetry reading at 3:30 p.m. Monday, Oct. 3 on the patio outside Hammond Hall. The Fitchburg State Choir will perform "True Colors," and speakers from across campus will offer remarks.
The events continue on that date with a virtual talk by transgender actress and activist Zoey Luna at 7 p.m. As one of the first transgender youth public figures, Luna has shared her life story through several documentaries and interviews and was featured in the MTV documentary "Laverne Cox Presents: The T Word," which followed the lives of transgender individuals. She appeared in the popular and groundbreaking series "Pose" and played a leading role in the Blumhouse feature film remake The Craft: Legacy. To watch the talk on Oct. 3, please visit meet.google.com/orr-dhxu-xbv. Those wishing to gather in person to watch the virtual address are invited to visit Ellis White Lecture Hall in Hammond Hall.
The campus will host another virtual address at 7 p.m. Wednesday, Oct. 12 when speaker and author Lev Rosen appears. Rosen is the acclaimed author of books for all ages, including the adult titles All Men of Genius and Depth, as well as books for middle school readers (including Woundabout and The Memory Wall) and young adults (Jack of Hearts and Camp, which is being adapted into a feature film). Rosen's books have been translated into many languages and sold around the globe. His next book, the historical mystery Lavender House, will be released this fall. To join the virtual talk, please visit meet.google.com/hpb-jbey-pgr. Those wishing to gather in person on campus to watch are invited to meet in Ellis White Lecture Hall in Hammond Hall. 
Throughout the month, there will be a display of flags and pride lights in the trees in front of Hammond Hall as well as a "Journey to Equality" display in the campus library. Gender-Affirming Fashion Day, El Salon Mi Orgullo (My Pride) art reception, Pronoun Day, drag queen story hour, and a "second chance dance" are some of other events planned by the committee.
To see all the month's events, including social media campaigns around topics including National Coming Out Day on Tuesday, Oct. 11, please visit fitchburgstate.edu/lgbtq-history-month.