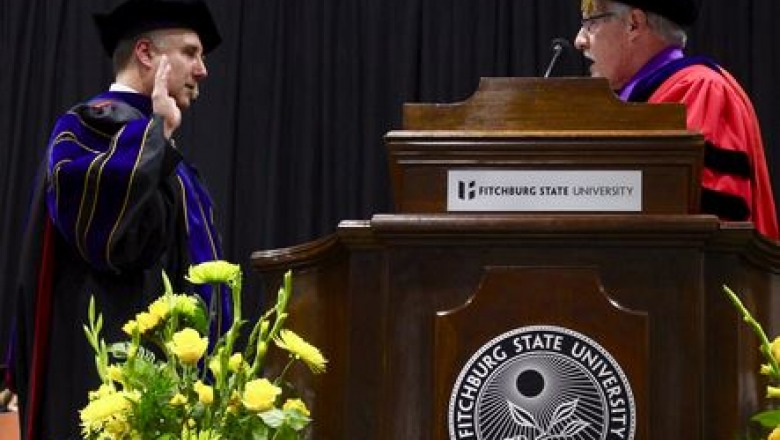 More than 800 people gathered Thursday at the Athletics and Recreation Center to witness the milestone, which included remarks from U.S. Rep. Niki Tsongas, State Secretary of Education James A. Peyser and Commissioner of Education Carlos Santiago, along with local dignitaries and more than 20 delegates from other institutions of higher education.
The installation was part of a week of programming for the campus and wider community.
The ceremony highlighted the University's collaboration with its city and region, embodied by local elected leaders, and reflected its international flavor with a march of flags carried by students, faculty, staff and community members from more than 30 countries.
Commissioner Santiago administered the ceremonial oath of office, and President Emeritus Robert V. Antonucci presented Lapidus with the President's Medal, adorned with the names and years of service for Fitchburg State's previous 10 leaders.
Lapidus outlined a vision for his administration in his inaugural address.
"We must be united in support of our mission as a public university and remain firmly rooted in our philosophy of student centrality with a teaching and learning focus," Lapidus said. "As a public higher education institution, access is an important part of our mission and a role we play as a means of fostering social opportunity and social mobility. While access is important, so too is affordability."
To that end, Lapidus vowed the institution will commit to keeping tuition and fees affordable.
"However, access and affordability without excellence is just a hollow promise," he added. "We will continue to infuse our curricula with high impact applied learning practices such as internships, competitions, civic engagement exercises, and faculty-led research and creative projects."
Lapidus also said the University will continue to strengthen academic programs and create new and unique programs of study to serve the aspirations of its students and meet the needs of the state's workforce, infusing those programs with technology. Those programs must also be grounded in a liberal arts foundation, he added.
"We cannot be an excellent comprehensive university if we do not insure that students are exposed to the humanities, the fine arts and the liberal arts," he said.
Lapidus also said Fitchburg State must embrace inclusion and appreciate the richness that stems from diversity among its faculty, staff and students. "Our campus must remain a welcoming place where everyone feels safe and is treated with respect. I'm committed to these principles and will continue to work hard in support of strengthening our inclusive culture," he said.
"Our goal is to create a learning community that reflects the region, thus producing a rich tapestry woven together by the broadest range of cultures, experiences, beliefs and orientations. It doesn't matter from what station of society our students come from. Every student comes to the University with a future vision of themselves and they must be given the opportunity to succeed and bring that dream to fruition.
"We are here to learn from each other and if we only share a narrow and agreed upon singular understanding on topics of importance there is not much room for intellectual growth," he continued. "We are far better served by using the power of diversity to solve problems and better our collective lives."
Lapidus also vowed to continue building upon the strong relationship between the campus and the city in which it resides.
"The University does not, and should not, operate in a vacuum," he said. "Surrounding this beautiful campus is an important part of our history, character and success: the city of Fitchburg. Public universities are inextricably linked with the communities that surround them and possess a unique opportunity to both serve them and benefit from them. We each can be viewed as a valuable resource to the other and must find ways to engage and be responsive to the broad-based needs of our shared constituencies.  Both might be viewed as teacher and student."
Fitchburg State has several mechanisms to promote civic engagement and enjoys robust partnerships with other institutions in the region, he said. Leveraging the creativity of the student body can also be beneficial as the campus looks to extend its footprint onto Main Street.
"As a university we are committed and stand ready to provide leadership with city-based planning initiatives and look forward to our shared future with the city, its mayor and the surrounding region as we collectively seek to improve our community," Lapidus said. "We understand that we cannot be a great university without a strong and lasting connection to the city and region that we serve."
Lapidus cited the institutional symbols of the saxifrage, the so-called rock-breaking flower that can grow through cracks, and the falcon, with its great speed and resourcefulness, as touchstones to build upon.
"This is a challenging time for all of higher education, but it's also an exciting time.  As the saxifrage and falcon validate, with perseverance comes opportunity and with opportunity comes positive change," he said. "I know that with your help and commitment we as an institution and as a broader community are well positioned to transform the lives of many and shape the leaders that will be charged with the weighty task of building a better tomorrow. Thank you very much, and go Falcons."
President Richard S. Lapidus vowed to maintain a focus on student success, foster diversity and inclusiveness and continue to embrace the institution's host city in his inaugural address as the 11th president of Fitchburg State University.