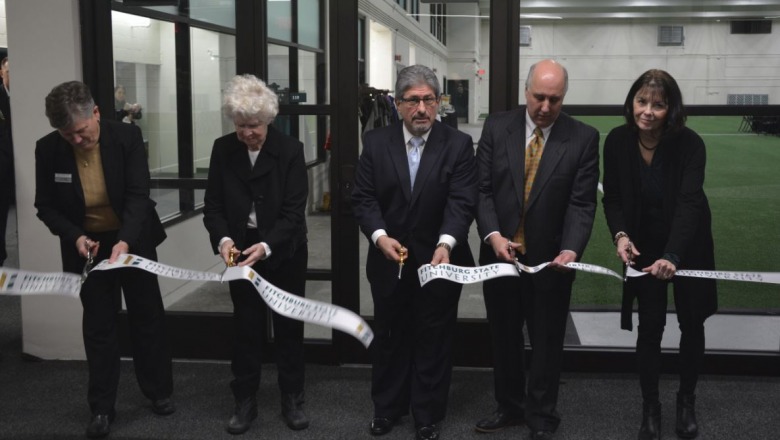 The Carmelita Landry Arena at the Wallace Civic Center was rededicated on Jan. 23, marking the facility's evolution into a state of the art strength and conditioning facility for Fitchburg State University athletes and exercise and sports science students.
The building also contains a turf practice field that will be available for public access when not in use by the University.
The renovated arena will continue to bear the name of Carmelita Landry, known as the "Fitchburg Speed Queen" in the 1930s and 1940s. One of the most successful speed skaters of her time, Landry's career included 23 championships and induction into the Speed Skaters Hall of Fame.
Fitchburg State President Richard S. Lapidus noted that Landry achieved at the highest level despite disabilities caused by a childhood injury.
"Carmelita Landry's drive and stamina more than compensated for those challenges, and her memory endures because of the excellence she embodied," Lapidus said. "It is fitting that this building continues to bear Carmelita Landry's name. As a multi-sport facility, the renovated Landry Arena will help generations of student-athletes to compete at the highest level, and will help students learn how to facilitate such excellence as a home for our expanding academic programs. At the same time, we are committed to creating opportunities for the wider community to benefit from this facility."
Landry's daughter, Darlene Westlund, was a guest at the ceremony and helped cut the ribbon marking its dedication.
Fitchburg State's varsity athletes will use Landry Arena as a training facility, alleviating congestion at the recreation center on the main campus. In addition to functioning as an athletic training facility, Landry will also be home to the a new strength and conditioning concentration the University plans to start this fall within its Exercise and Sports Science Department. The program is believed to be the first of its kind in the state.
"We've been interested in pursuing this concentration for several years, but we had been limited by space constraints," Vice President for Academic Affairs Alberto Cardelle said. "Having this renovated space and the appropriate equipment will let us do it."
"We've had a number of students in our major who are interested in pursuing careers as strength coaches," said Exercise and Sports Science Department Chair Danielle Wigmore. "We predict it's going to be a growing program that will also help us recruit athletes."
Athletic Director Sue Lauder agreed.
"For our 330 student-athletes, Landry Arena will be a magnificent practice and conditioning facility," Lauder said. "It will give our student athletes a unique opportunity to practice indoors and work with dedicated strength and conditioning coaches who will make them better athletically, and healthier overall. This facility will put us a step ahead of most of the universities against whom we compete."
The space will also house the city of Fitchburg's Parks and Recreation Department offices pending the renovation of Fitchburg City Hall. That city department will also be the conduit for public use of the turf field within Landry.
"The renovated Landry Arena will help Fitchburg State athletes now and in the future, and will keep the University strong as it continues to distinguish itself among the state's institutions of higher education," Fitchburg Mayor Stephen DiNatale said at the ribbon-cutting ceremony. "And a strong university is good for a strong city of Fitchburg."
Former Mayor Mary H. Whitney, now a member of the city's Board of Parks Commissioners, also saluted the collaboration at the ceremony.
"Our city's Parks and Recreation Department provides essential services, facilities and programs for the well-being of the community through the provision of parks, greenways, trails and recreation facilities while working in cooperation with community providers," Whitney said. "This facility provides us another valuable resource in that mission. At the same time, our Recreation Department offices will soon be housed in Landry Arena while Fitchburg City Hall is being renovated. Having the office in this space will be a convenience for our residents, and good for our staff."