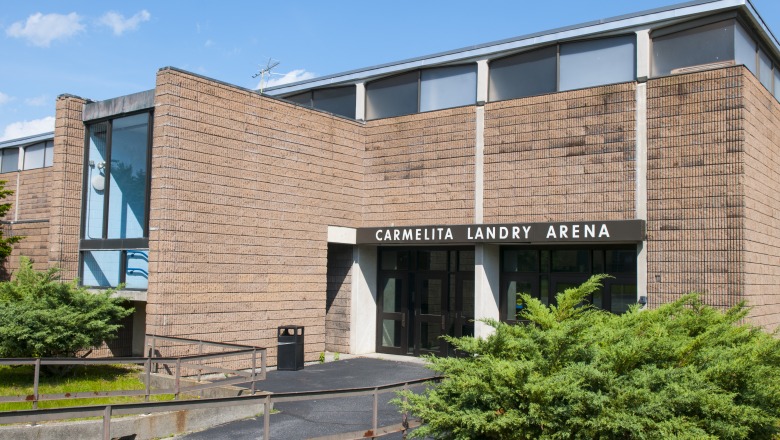 Fitchburg State University will convert the aging Landry Arena at the Wallace Civic Center into a year-round recreational facility that will remain accessible to the public, President Robert V. Antonucci announced today. The former Landry users will be accommodated in the neighboring Gaetz Arena.
"We are saving the Landry Arena by converting its use," Antonucci said. "Landry has operated at a deficit for years as an ice surface, and is in need of significant capital investments. Maximizing the use of Gaetz Arena preserves the long-term viability of the entire Civic Center complex. Converting Landry into an all-season recreational facility makes sense."
The decision was announced after months of analysis by university officials and FMC Ice Sports, the private firm contracted to operate the civic center. At present, Landry Arena is in need of more than $2 million in repairs and loses money every year. At the same time, the number of hours of ice time requested for the entire complex has been declining for years.
"Closing the financial gap by increasing the hourly ice rental rates is not feasible," Antonucci said, noting the current charges would have to rise by $145 to $200 per hour just to break even operationally. "The path we are taking preserves Landry as a community asset and puts the entire civic center complex on steadier financial ground."
The Commonwealth of Massachusetts signed a 99-year lease on behalf of Fitchburg State to assume operations of the Wallace Civic Center in 2007. The civic center, formerly run by the city of Fitchburg, had been slated to close as the city was not in a position to invest in repairs. State officials were unwilling at the time to commit significant funds for renovating the structure unless there was a change in management.
Once the lease was signed, the state committed $2.5 million for repairs to the complex, which was supplemented by university funds. Fitchburg State signed a 25-year management and operations contract with FMC Ice Sports, one of the largest operators of public ice skating arenas in the country. The firm has extensive experience in various forms of contract management as well as consultation services. The company operates skating facilities for the state Department of Conservation and Recreation as well as municipal arenas.
The university inherited an aging physical plant and hundreds of thousands of dollars in unpaid bills when it assumed control of the civic center. The renovated Gaetz Arena has the capacity to accommodate all the former Landry Arena users, provided parties are willing to make adjustments in schedules.