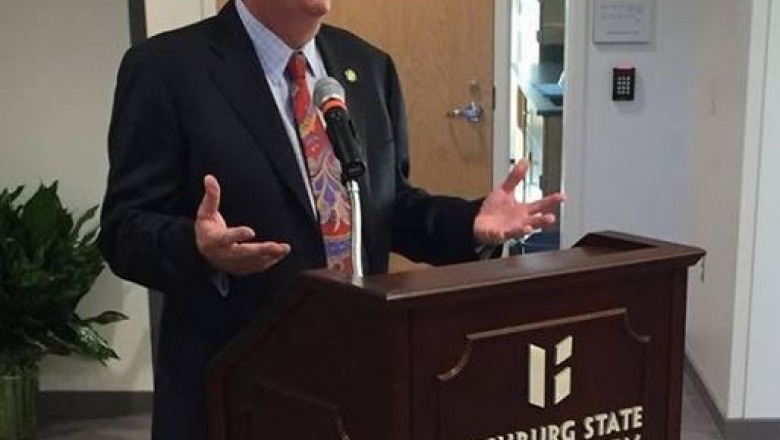 The Irving Wing is named in honor of Donald R. '72, '79 and Karen A. Irving '90 in recognition of their exemplary commitment to enhancing public higher education and Fitchburg State. Donald Irving is a member of the University's Board of Trustees and also serves on the Massachusetts Board of Higher Education.
In 2012, the Irvings created the Pay It Forward Scholarship, which has provided renewable support for 14 students since its inception. Recipients of the $5,000 scholarships are encouraged to give back to the institution in the future. Another eight Pay It Forward scholars will be named this year.
"Don and Karen Irving represent Fitchburg State's highest ideals," said University President Richard S. Lapidus. "They have been extremely generous with their resources and talents, creating opportunities for future generations of students. It is a fitting tribute to their legacy that we dedicate this state of the art facility in their name."
The Irving Wing of the science complex spans 55,000 square feet and houses the University's chemistry and biology laboratories along with other research and instructional space.
"This is an incredible honor," said Irving, whose roots at Fitchburg State go deep; his father enrolled after returning from service in World War II, and the young family lived in a barracks that was erected to serve all the other returning veterans. That barracks, Irving said, was located on the spot where the laboratory wing that bears the family name now stands.
Irving taught for six years before going into business, and later wanted to start his own company. He recalled telling his wife they would need to mortgage their home and accrue substantial debt to make it a reality. Karen Irving agreed, and they were off. The company, Data Guide Cable Systems, thrived. And he said nothing was more satisfying than giving someone some assistance and then watching them take off and succeed.
Karen Irving recalled leaving her studies at Fitchburg State in 1969 with just two semesters left, vowing to return soon to complete her degree. Life intervened, and as her family grew she decided to finish what she had started. She completed her degree in early childhood education in 1990. In recognition of the challenges facing mothers in pursuit of their degrees, several of the Pay It Forward Scholarships are designated for working moms.
U.S. Rep. Niki Tsongas also spoke at the ceremony and described the importance of philanthropic giving.
"The public sector cannot do it by itself," Tsongas said. "You need a philanthropic base of people who have benefited, done well, remain engaged and understand they have an important role to play."
During the ceremony, President Lapidus read a letter from Adam S. Hoeg, a 2014 Fitchburg State graduate and one of the first Pay It Forward scholars.
It was a Wednesday afternoon in early April of 2013. I was sitting in the campus center, researching how to afford my upcoming last year of school. It was a time that I had dreaded for the last couple of years, having known I would eventually reach my federal financial aid cap. I had attended a private institution for two years prior to gaining acceptance to Fitchburg State, where I knew I would then need to complete four additional years to graduate. My five years of education up to this point had been financed through federal loans and grants, and having worked closely with financial aid counselors each year, I knew I was soon going to reach the maximum amount of aid I was eligible for as a student prior to graduation. It was then, while waiting for my Ethics class to start, that I received one of the most memorable emails of my life. The subject line read "Congratulations." My heart dropped to my stomach, and my breath stopped. I was one of the recipients of the Don and Karen Irving "Pay it Forward" Scholarship. It was the first I had ever applied for. I closed my laptop, got up, headed to class and called my aunt to share the good news. This was a day I'll never forget.
For some students, affording college is easy, for others, it's a challenge, and for many, it's next to impossible. Some are lucky enough to have parents pay their whole way, with ease; some receive scholarships for their good grades and high-school performance, grants and loans. Some have to ask their parents to co-sign a private loan, downsize to a smaller home, sell one of their higher-end cars, or even pick up a second job. For me, I didn't have any of those options. I had to rely solely on federal aid from the government, as I wasn't lucky enough to have living parents to help. I was a C student in high school who was uninvolved, and therefore did not qualify for scholarships. Being a first generation student, I didn't know much about scholarships except for the fact that only those who have gone above and beyond were typically eligible for them. One day earlier that year, a mentor, and now good friend of mine, Tara Manzello, Associate Director of Admissions at FSU, had urged me to apply for scholarships. I had remembered reading an email earlier that same day from the Dean of Enrollment management, Pam McCafferty, to all students, stating that there were more scholarships available than students applying for them.  At this point, I was an A student, making the dean's list most semesters, and worked in several different offices across campus, I thought I could have even a small chance after all.
For this scholarship in particular, it wasn't for the best student, the most involved, or even the most well-known. It was simple who the Irvings were giving to, and it was to those who needed it, no matter what their background, or how promising their future was. This family made the choice to give away $20,000+ a year, to make the dreams of students comes true. For me, it was quite literally a dream. I had dreamt about graduation day regularly for the past few years. I would be the first in my family to ever even pursue a four-year degree, and would be able to go onto graduate school to work in higher education, to give students the same support I had received as a student at FSU. This dream came true, because of the Irvings. I did not have any other way to finance those last thousands of dollars that I would owe for my final year at Fitchburg, as many others don't as well. I had no co-signer for a private loan; I already worked 25 hours per week on campus and had maxed out on federal loans. But then the Irvings came along, and changed all of that. They made a decision to give, blindly, to students who need it the most. That impact is immeasurable. I was able to graduate with my best friends at Fitchburg, a day I refer to as the happiest day of my life. I am now in my last year of graduate school in Ohio, about to complete my M.Ed. in Higher Education Administration, where I received an assistantship that paid for my housing and full tuition for two years. Here I also work to help students achieve their educational goals as an Academic Coach, and am currently job searching in the Massachusetts area in the fields of admissions and academic services, as the on campus portion of my program ends in December.
It is likely I would not have made it this far, without the help of the Irvings. Their generosity has created an impact that is now allowing me to help change the lives of students from all over the country. They have created a domino effect, which I plan to spend the rest of my life making sure is still going strong.
It is important to remember, that I am just one simple example of the impact the Irvings have had. At this point, they have given these scholarships to 15-20 students, who like myself, were likely out of options. The greatest gift someone can give is their time and support.  The support we as recipients of the Don and Karen Irving "Pay it Forward" scholarships have received, will never be forgotten. Not a day goes by that I don't think about those that have helped me to get where I am today, and at the top of that list, will forever be Don and Karen, the family who later that year took me out to dinner, in an effort to learn more about myself. It was during that dinner that I was lucky enough to get to know these amazing individuals who deserve this recognition more than anyone I could think of. Their dedication to the mission of Fitchburg State University is beyond impressive and everlasting. Their willingness to give is both genuine, and heart-warming. It's comforting to know that there are people in this world, who make it their mission to change the lives of others, by giving them the financial recourses needed to reach their goals.
Don and Karen – from the bottom of my heart, as well as my families, thank you for helping me when they weren't able to. Thank you for helping all of us reach our goals. I look forward to the day when I am able to give back to the University, in even a fraction of the way that you have. You aren't just giving scholarships; you're giving us access to our dreams. The two of you are beyond deserving of this recognition and dedication, and I hope that it is something that stays with you forever.
The University celebrated the naming of the Irving Wing of the Antonucci Science Complex during a ceremony Thursday, Oct. 15 inside the building at 333 North St.