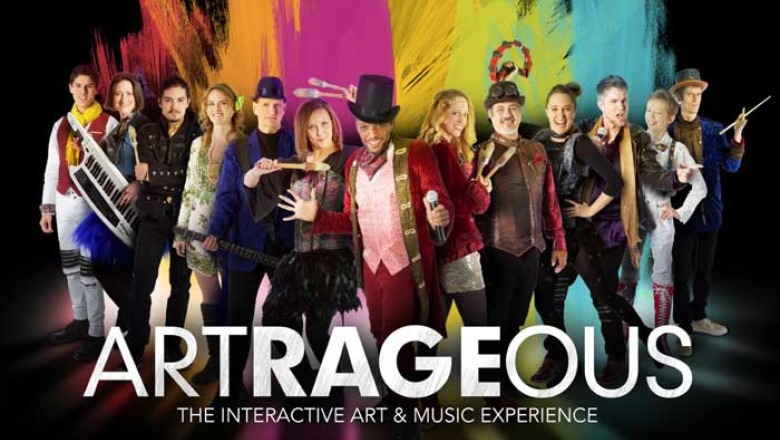 The Fitchburg State University CenterStage arts and culture series will present the interactive art and music experience Artrageous at 7 p.m. Friday, April 28, in Weston Auditorium.
Artrageous is a troupe of multi-talented performance artists, world class singers and recording artists, highly trained dancers and audience motivators, and veteran musicians hailing from the high desert of New Mexico. Their high energy performance is a combination of all arts on one stage, combined with humor and interaction in a frenzy of movement and color.
The audience is immersed in the world of Artrageous and become participants in the show, not merely watchers. For the brave audience members, they are invited to join the troupe on stage for special numbers featuring their creativity. For the more mild audience members, the Artrageous vocalists will instruct vocal parts as they sing along and use their souvenir finger lights to create a light show.
There is something for everyone, whether you are a performer at heart or just want to be thoroughly entertained.
Tickets are $20 for adults; $15 for seniors, Fitchburg State alumni and staff members; and $5 for students and children under 18. Tickets may be purchased at the Weston Box Office located inside Weston Auditorium at 353 North St. The box office is open 12:30 to 3:30 p.m. Thursday and Friday and can be reached at 978.665.3347. Tickets may also be purchased online at fitchburgstate.edu/centerstage.