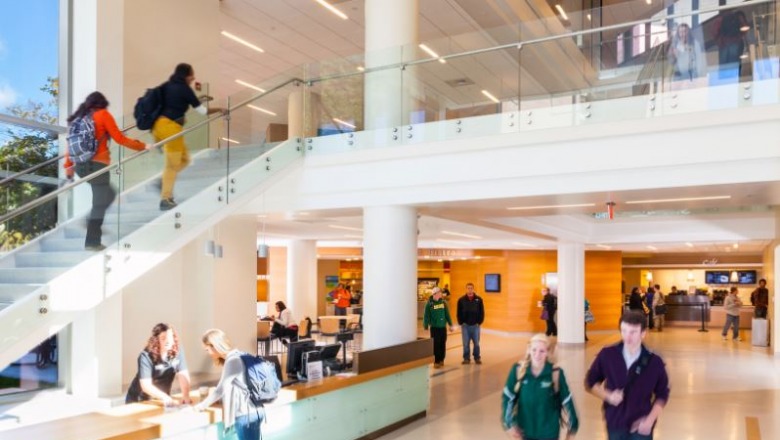 Food insecurity is an issue for college students across the country, and Fitchburg State University is stepping up with a community response.
Several initiatives are launching this fall to address the issue, led by the new Food and Necessities Insecurity Committee.
The Falcon Bazaar Necessities and Food Pantry will be open in Hammond G-15, in space shared with the campus Volunteer Center. The Bazaar will be a place for campus community members to pick up food items including canned goods, milk, eggs, cheese and bread, along with personal care items such as deodorant and feminine hygiene products.
The Green Bag Program will distribute 250 canvas bags to offices across campus. Members of the campus community will be encouraged to purchase an extra item or two to place in their office green bag when they're out shopping. Once the bag is full, it can be brought to the Falcon Bazaar to help stock the shelves. The goal is for the bazaar to be self-sustaining.
Swipe It Forward will let students donate from their meal plans into a bank for students in need. Students who experience food insecurity can reach out to a Fitchburg Feeds Ambassador (any member of the campus community who would like this designation can reach out to Hank Parkinson at hparkinson@fitchburgstate.edu) who can then submit a request on the student's behalf. Students can also be nominated for Swipe It Forward consideration online. Requests will be vetted through the University's CARE team for review and approval. Once approved, a block of five meals will be moved to the student's OneCard and can be used at any meal in the dining hall. The committee hopes to create a bank of 300 meals per semester. There will also be opportunities for staff and community members to make financial contributions to the program.
Contact falconbazaar@fitchburgstate.edu to stay involved, and for more information, contact committee members Hank Parkinson, Shane Franzen and Heather Mazzaferro.