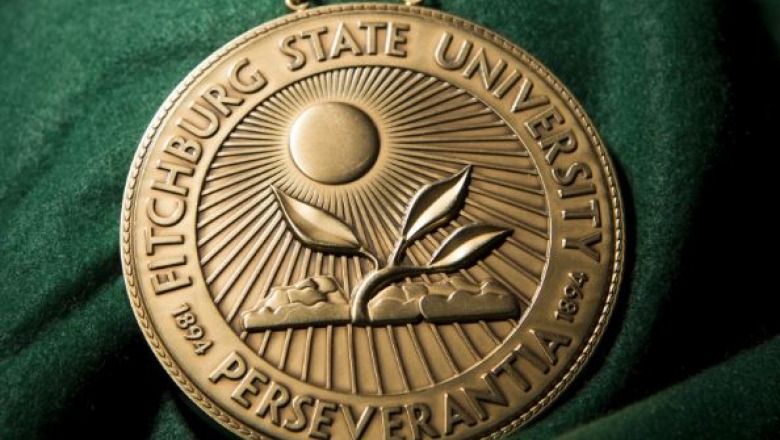 The inauguration and homecoming week programming was selected earlier this year after submissions from the campus and surrounding community were solicited and reviewed. The events are designed to celebrate the history of Fitchburg State and its contributions to the civic life of the city and region. While President Lapidus has been at Fitchburg State since the summer of 2015, it is customary in academia for the formal installation to occur in the year after a new president's arrival.
Among the offerings during inauguration and homecoming week:
Explore the climate of Mars and take a deep dive into the works of renowned local author Robert E. Cormier.
Learn about the impact of income inequality from celebrated economist James K. Galbraith, and laugh at the culture-clash comedy of off-Broadway sensation Steve Solomon and his acclaimed show "My Mother's Italian, My Father's Jewish and I'm in Therapy."
Hear from returning military veterans as they describe their journey from the battlefield to the college classroom, and take in the cultural vibrancy of the region with an evening of music and Latin dancing.
Celebrate the 25th anniversary of women's studies on the Fitchburg State campus and learn about the landmark free speech case that pitted students against administration in federal court.
President Lapidus' formal installation will take place at 2:30 p.m. Thursday, Oct. 13 in the Athletics and Recreation Center, 130 North St. This formal academic event will include state and local dignitaries as well as delegates from other institutions of higher education across the country. The ceremony will also include the president's inaugural address, outlining his vision for the future of Fitchburg State. Admission to the installation ceremony is free and open to the public.
There will also be an inauguration celebration at 6:30 p.m. Saturday, Oct. 15 in the Falcon Hub at Hammond Hall. Tickets for this public event are $100 and can be ordered by calling 978.665.3232. Proceeds will benefit the Fitchburg State University Foundation.
All of the inaugural and homecoming week events are open to the public (please note, some are ticketed).
Tuesday, Oct. 11
Climate Change on the Red Planet — Assistant Professor Reid Parsons will discuss what his NASA-funded research has revealed about the climate history of our celestial neighbor at 11 a.m. in Randall Lecture Hall in the Antonucci Science Complex, 333 North St.
Dreaming of Whales — This shadow puppet presentation by Assistant Professor Sally Moore is a fable without words that transports us to an imaginary world. The presentation will be held at 12:30 p.m. in Holmes Dining Commons.
From Warrior to Citizen Soldier — Student veterans, along with veterans from Vietnam, Iraq and Afghanistan host a roundtable discussion that covers transition from service to citizen life, along with coping, success, failures and criticisms of veterans who have undergone war and combat. The discussion will be held in Randall Lecture Hall in the Antonucci Science Complex, 333 North St.
Inequality: The Economic Issue of our Age — Economist Dr. James K. Galbraith looks at the impact of free trade and globalization on American workers and post-industrial cities such as Fitchburg for this program, being held at 6:30 p.m. in Ellis White Lecture Hall in Hammond Hall, 160 Pearl St. A reception will follow the talk.
Wednesday, Oct. 12
The Robert E. Cormier Symposium: An Interdisciplinary Forum on Hate, Bullying, and Terrorism — Celebrated local author Robert Cormier explored many types of violence in his enduring works, and this presentation will view them through a keynote address and several panel discussions. The symposium will begin at 11 a.m. in the Amelia V. Gallucci-Cirio Library in Hammond Hall, 160 Pearl St.
There will be a keynote address by Elizabeth Englander, director and founder of the Massachusetts Aggression Reduction Center and professor of psychology at Bridgewater State University, on the impact of the dramatization of extreme physical violence on how we perceive more typical violence that occurs. That talk will be followed by a panel discussion at 12:20 p.m. entitled "Abuse, Bullying and Cultures of Violence." Another panel talk will follow at 1:10 p.m., entitled "Pressures of a Group: Gang Violence, Discrimination and Harassment." A student-led discussion of Cormier's Tunes for Bears to Dance to and R.J. Palacio's novel Wonder will follow at 2 p.m. The event will conclude with a final panel talk at 2:35 p.m. on "Understanding Extremism: Terrorism, Intimidation and Hate."
Visitors will also be able to look at artifacts from the University's Cormier collection in its archives.
Welcome and Noche Caliente — Campus clubs and organizations including the Student Government Association, Dance Club, Greek Council, Latin American Student Organization and the students of the Center for Diversity and Inclusiveness welcome President Lapidus and Provost Cardelle to Fitchburg. Enjoy "a taste of Fitchburg" from local restaurants, a Latin band, free dance lessons and commemorative novelties. Campus radio station WXPL will keep the dancing going into the night. The event starts at 6 p.m. in the main lounge of Hammond Hall, 160 Pearl St.
Women's Soccer vs. Dean College — The Falcons take on Dean College at Elliot Field at 7 p.m.
Thursday, October 13
The Battle for Free Speech at Fitchburg State — Professor Laura Baker, alumnus William McSheehy and current students explore a landmark free speech battle that pitted students against administration on the Fitchburg State campus in the fall of 1969. The case was a significant moment in our history when students played an important role in shaping the institution's policies and campus culture. The program starts at 11 a.m. in Room S08 of Hammond Hall, 160 Pearl St. Items from the University's archives related to the case will also be on display.
Installation Ceremony — President Lapidus will be formally installed as Fitchburg State's 11th president at this formal academic event, where he will welcome students, faculty, staff, alumni and honored guests from other institutions of higher learning and the Commonwealth of Massachusetts. The ceremony will be held at 2:30 p.m. in the Athletics and Recreation Center, 130 North St. Attendees of the Installation Ceremony are asked to RSVP online.
My Mother's Italian, My Father's Jewish & I'm in Therapy — Join writer/star Steve Solomon for an evening of hysterical comedy in this presentation of one of the longest running one-man shows ever. Topped off with the voices of almost 30 of the most hilarious characters and situations you've ever seen, side-splitting laughter is guaranteed. Sponsored by the Center for Italian Culture at Fitchburg State, this event will be held at 7 p.m. in the Falcon Hub at Hammond Hall. Tickets are $30 and can be ordered online.
Field Hockey vs. Rivier College — The Falcons face Rivier College at 7 p.m. at Elliot Field.
Friday, Oct. 14
Class of 1963 Scholarship Luncheon — In celebration of endowing their first scholarship in 2016-17, the Class of 1963 is hosting a luncheon for the classmates to meet and congratulate their scholarship recipient. The luncheon will be held at noon in the main lounge at Hammond Hall, 160 Pearl St. Tickets for the luncheon are available online.
Women's Studies at 25 — Join us for a symposium in which students and current and emeritae faculty speak about the founding and history of the women's studies program at Fitchburg State 25 years ago, and celebrate the launch of women, gender and sexuality studies. The program will start at 3:30 p.m. in Ellis White Lecture Hall in Hammond Hall, 160 Pearl St., featuring Roberta Adams, Margo Kempers, Simone Blake, Viera Lorencova, Christina Arecy, Troy Zaher, Shirley Wagner and Jane Fiske. Admission is free. The symposium will be followed by a dinner at 5 p.m. featuring a keynote address by state Sen. Jennifer L. Flanagan. Tickets to the dinner are $20 for adults and $5 for Fitchburg State students.
Athletics Hall of Fame Dinner — Every two years, former student athletes, coaches, teams, and individuals who made outstanding contributions to athletics at Fitchburg State University are chosen for induction into our Athletics Hall of Fame. This year one team and five athletes are being honored at the ceremony, being held at 5:30 p.m. in the main lounge at Hammond Hall, 160 Pearl St. Call 978.665.4555 for tickets.
Saturday, Oct. 15
Gold Key Breakfast — Members of the class of 1966 and earlier are invited back to campus for their Gold Key Society induction. This annual ceremony is held to recognize the collective achievements of those in the society and to induct the 50th reunion class. Alumni from earlier class years who have not yet received their Gold Key are welcome to receive it at this event. Register for the Gold Key Breakfast online.
Women's Soccer vs. Bridgewater State — The Falcons kick off a day full of athletic competition at Elliot Field at 10 a.m.
The History of Fitchburg State — Explore the University's journey from its founding in 1894 as a teacher-training school to the innovative, comprehensive institution it has become. Campus tours will follow this program, which starts at 11:30 a.m. in Ellis White Lecture Hall in Hammond Hall, 160 Pearl St. Visitors are asked to register for the History of Fitchburg State program online.
Football vs. Western Connecticut State — It wouldn't be Homecoming without a football game. Western Connecticut State goes head to head with the Falcons at this game, being held at 1:30 p.m. at Elliot Field. Away from the field, the event will feature food trucks as well as the Alumni End Zone Club beginning at 1 p.m., where visitors 21 and over can enjoy an adult beverage.
Alumnae Softball Game — Former players take on the current Falcon softball squad at 2:30 p.m. at Donna-Lee Withington Memorial Field at Coolidge Park, followed by a meet-and-greet at Slattery's. Register for the Alumnae Softball Game online.
Inauguration Celebration — This celebration of President Lapidus' inauguration will feature station dining and live entertainment. The formal event, black tie optional, will be an opportunity for members of the campus and wider community to share this milestone in university history and reflect on Fitchburg State's past and celebrate its future. The event will start at 6:30 p.m. in the Falcon Hub at Hammond Hall, 160 Pearl St. Tickets for the Inauguration Celebration can be purchased online.
The Comedy of Carly Aquilino — Comedian and regular on MTV's "Girl Code," Carly Aquilino closes out our celebratory Inauguration week with her unique brand of stand-up comedy. Comedian Emma Willmann opens the 18-plus show. Tickets for Carly Aquilno can be ordered online.
Fitchburg State will mark a milestone in its history with the formal inauguration of its 11th president, Richard S. Lapidus, on Thursday, Oct. 13, with the event surrounded by several days of entertaining and educational programs that are open to the wider community. The week includes the University's Homecoming celebration.