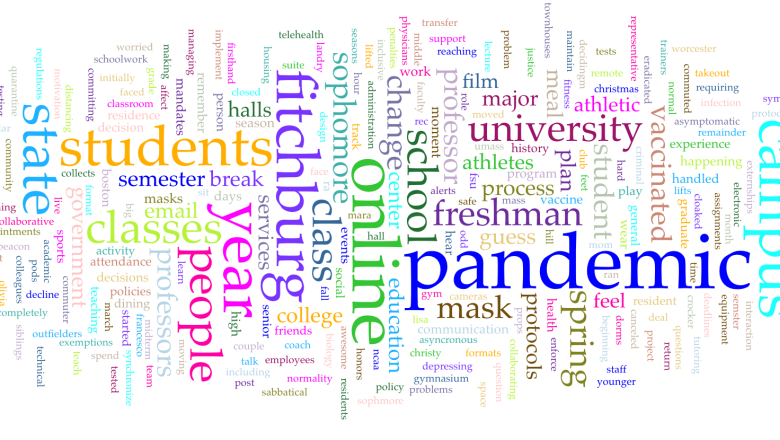 The COVID-19 pandemic has been a generational disruptor, affecting every aspect of modern life. For honors students at Fitchburg State University during the spring semester, it also presented an important opportunity to document living history.
Their work resulted in the newly-published "Perseverantia: The Empty Campus," a digital archival project and podcast.
"We're assembling a project that aims to explain how the community changed before, during and after the pandemic," said Francisco Campione, a student in Professor Katherine Jewell's honors seminar this spring. Campione is about to enter his junior year studying business.
Students started the semester articulating the format of their collective project, ultimately deciding to harvest oral histories and other assets into the digital space. Interviews with students, faculty and staff members captured yielded audio testimonies of life during the pandemic.
The project includes five episodes of a podcast chronicling the progression of the pandemic as it was experienced on campus, dozens of oral histories from students, faculty and administrators, and crowdsourced photos and captions from campus community members.
"The project began as an outgrowth of audio and radio preservation work that I've been conducting with the Radio Preservation Task Force, a project of the Library of Congress," Jewell said. "I applied that research in this endeavor to crowdsource document collection and expanded it to oral history in the Honors Seminar.
"In this class, students were able to experience the work involved with doing history — not merely in collecting research, but in the work with metadata, tagging, organization, interpretation, and narrative construction that history involves," Jewell continued. "The goals of the oral history and podcast project were also in conversation with the field of digital public history and digital humanities, which looks to bring research and its benefits beyond campuses and scholarly conversations, creating public engagement and conversation."
For the students who worked on curating the series it was a worthy test of new and existing skills.
"I didn't know too much about oral histories," said Benjamin Hill, graduating with a dual major in political science and history. Working on this project helped him focus skills on editing and organizing data from the interviews the students collected.
Hill noted the different experiences described by students who had been on campus before COVID compared to those who came to the university when it was already experiencing remote courses and other measures that altered traditional campus life.
As a commuter student from New Hampshire, Hill heard from some who shared his appreciation for not having to drive to school for early morning classes. At the same time, others reported the online format to be a significant challenge.
Geena Duval, entering her junior year studying nursing, helped conduct numerous interviews for the project, focusing on students in professional programs and their professors. "It was seeing how their teaching methods changed during the pandemic," she said.
Madison Waterson, also entering her junior year this fall in nursing, said conducting research interviews was a step outside her usual area of expertise, but was a welcome experience. "I'm a pretty social person so I found it came pretty easy to me," she said.
Campione, a native of Italy, interviewed an upperclassman about his experience of university life over the course of his academic career. "It was interesting to see the difference between school before COVID, and after," Campione said.