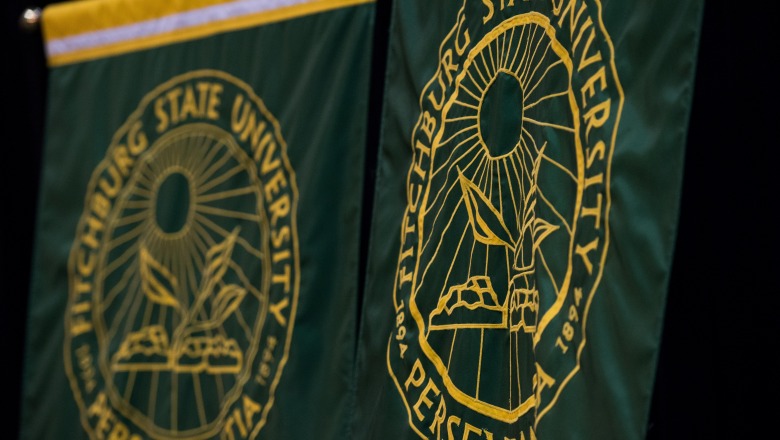 Fitchburg State University will celebrate the achievements of the Class of 2020 at virtual commencement ceremonies in December.
The university will have a virtual ceremony for the May 2020 graduates at 6:30 p.m. Thursday, Dec. 17, and a virtual ceremony for the December 2020 graduates at 6:30 p.m. Friday, Dec. 18.
The graduates' names will be shared in individual virtual ceremonies according to the university's academic schools:
School of Arts and Sciences

School of Business and Technology

School of Education

School of Health and Natural Sciences
The virtual ceremonies will include remarks from the corresponding undergraduate valedictorians from May and December, as well as the recipients of the Graduate Student Leadership Award for each semester. University President Richard S. Lapidus will deliver the keynote commencement address at each ceremony.
"We are honored to recognize the singular accomplishments of these graduates, who have completed their degrees despite unprecedented challenges," Lapidus said. "Every university graduate must balance the demands of their studies and external factors, but the Class of 2020 had to contend with all of those as well as a global pandemic. They truly embody the university's motto of 'perseverance,' and we are proud to honor them."
For the May 2020 ceremony, Valedictorian Stanley L. Choruzek (Computer Information Systems) of Lancaster will deliver remarks, as will Graduate Student Leadership Award recipient Paul A. Thibodeau (Master of Science in Counseling) of Royalston.
For the December 2020 ceremony, Valedictorian Caroline Anderson (Environmental and Earth Science) of Lunenburg will deliver remarks, as will Graduate Student Leadership Award recipient Michelle A. Tilden (Master of Education in Occupational Education) of West Wareham.
Additional details about the ceremonies, as well as links to watch the proceedings, will be posted at fitchburgstate.edu/commencement.
The Class of 2020 Honorees
May 2020 Valedictorian Stanley L. Choruzek
Stanley L. Choruzek is a U.S. Marine Corps veteran who enlisted as soon as he was old enough in order to join the War on Terror. When an injury during training kept him from being deployed, he turned his attention to being a full-time father while earning a college degree. He began studying liberal arts and appreciated the foundation of critical thinking it fostered.
The Worcester native graduated from Mount Wachusett Community College in 2017 and then attended Fitchburg State. In addition to his studies, he worked on campus for Information Technology. He also appreciated the diversity of students he met on campus, including fellow veterans.
Looking ahead, Choruzek sees parallels in the computer networks he helped support and the human networks that sustain all of us.
Choruzek hopes to transfer his new degree in computer information systems into a career in cybersecurity. His drive to serve and protect his fellow citizens has led him to the virtual front lines, where hackers try to interfere with social networks or elections.
May 2020 Graduate Student Leadership Award Winner Paul A. Thibodeau
Paul A. Thibodeau has faced many challenges in his life but still considers his a blessed existence. After years of drug and alcohol addiction, Thibodeau got sober 25 years ago and is now committed to helping others overcome their own challenges.
After completing his undergraduate degree in human services from Fitchburg State in 2015, Thibodeau continued his studies at the graduate level in the hopes of building a career in counseling. Those plans were interrupted after a horrific car crash in 2017 that shattered his femur and left him with a traumatic brain injury.
Despite those challenges, Thibodeau considers his a blessed life. He believes he has survived so that he can help others overcome their own adversities.
In nominating Thibodeau for the graduate award, faculty members saluted his resilience and his commitment to continuing his studies, despite the challenges created by the accident – including delaying his graduation by a full year.
Thibodeau now works as a counselor for the Montachusett Opportunity Council and looks forward to getting his own license to practice on his own.
December 2020 Valedictorian Caroline Anderson
Caroline Anderson is graduating with a perfect 4.0 grade point average and a record of significant scholarship and academic achievement at Fitchburg State University.
Anderson's passion for the world around her is reflected in her major of environmental and earth science with a minor in chemistry. She has a deep interest in climate change and its impacts on the ocean.
As an undergraduate, Anderson was among the first cohort of students to participate in a grant-funded summer research program in which she worked with peers and faculty members on projects related to the local environmental and community health. The following summer, Anderson returned to the program as a peer mentor to the second cohort of researchers.
She has presented original research at conferences across the U.S. and in Puerto Rico, and interned with Professor Jane Huang on a project for the Worcester County Overdose Death Response Initiative Project, an effort begun by the Worcester District Attorney's Office in response to the opioid crisis.
Anderson was also the valedictorian of her graduating class at St. Bernard's Catholic High School in Fitchburg, where she was awarded the Rensselaer Medal for excellence in math and science.
Following graduation, Anderson is pursuing graduate school to continue her studies in oceanography.
December 2020 Graduate Student Leadership Award Winner Michelle A. Tilden
Michelle A. Tilden is a career educator, having worked with diverse learners for nearly 30 years. Since 2002, she has taught early education at Tri-County Regional Vocational Technical High School in Franklin, where her students are training for employment in the field of human services.
Like many graduate students, Tilden had to balance personal and professional challenges with her scholastic demands. She overcame these hardships to complete her degree and graduates with a Master of Education in Occupational Education.
In being nominated for this award, Tilden's advisor cited numerous contributions to her field, including bringing students to the national SkillsUSA conference where they won 4th place. The experience led her to be one of the lead advisors for many years. She continues to coach individual and teams of students from the early education program.
At her school, Tilden has shown herself to be a leader through service on numerous committees and training projects. She is the vocational representative for a team of teachers and administrators who work together on bettering the educator evaluation process in their district. The stated vision for this evaluation process is to embrace a collaborative coaching model of evaluation with an emphasis on reflective practices to promote individual and school development and growth, recognizing individual strengths and contributions consistent with continuous school improvement and the school's core values.