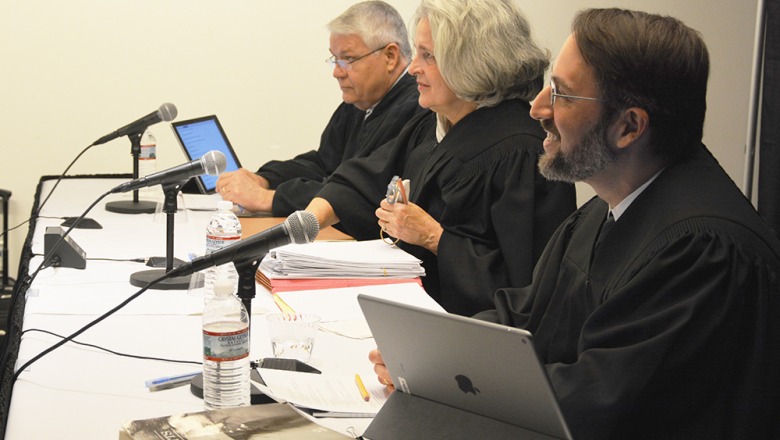 (Watch the oral arguments via Fitchburg Access Television.)
Associate Justices Mary T. Sullivan, James Lemire and Joseph M. Ditkoff heard six civil and criminal cases during the session, which was open to the public and recorded by Fitchburg Access Television. Opposing counsel in the cases heard Friday each had 15 minutes to make their arguments.
Following the day's last case, the justices took questions from the gallery about the Appeals Court process. The justices explained that they review cases that have already been decided in a lower court but where questions have been raised about decisions made during the original trials.
"We're only reviewing to see if an error was committed by the trial court," said Justice Sullivan, who added that evidence isn't presented anew at the appellate level.
"The record is what we live by," added Justice Lemire, noting that justices review the records in detail before hearing arguments.
Following the question and answer session, the justices joined students for lunch and informal discussions in the Falcon Hub. Professor Paul Weizer (Economics, History and Political Science) introduced several of his Moot Court team members to the justices, while Professor Beth Walsh (Behavioral Sciences) had her criminal justice students take advantage of the opportunity.
"I was impressed with the judges, both during and after the hearings," Weizer said. "They were very good about explaining the proceedings as they went so students could follow along. The judges were also very generous with their time after the hearings. They spent time with students in casual conversation, answered all of their questions, and gave useful advice regarding careers in law. It was a rare opportunity for us in Fitchburg to see the appellate process firsthand and one I very much appreciated."
Alexander Ramos, student trustee-elect and a member of the Moot Court team, was also impressed. "My experience speaking with Justice Lemire was unforgettable," he said. "His knowledge and experience of settling legal disputes caused me to realize the amount of weight the law has in our society in both civil and criminal cases. I was honored to have the opportunity to be able sit with Justice Lemire, for he is truly a mentor for any aspiring lawyer or judge in Massachusetts."
Court was in session Friday, April 6, when the Massachusetts Appeals Court heard arguments in Hammond G01. The court holds four such satellite sessions a year, and was last on the Fitchburg State campus in 2009.