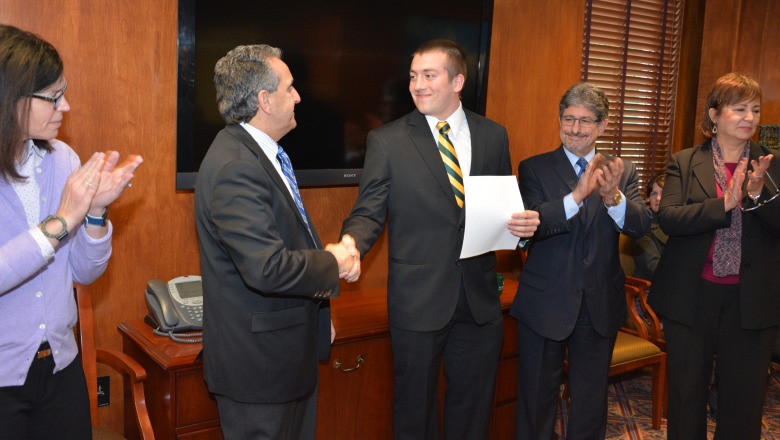 Gregoire, pursuing a degree in criminal justice, attended his first meeting of the board in October after being appointed to the position by Gov. Deval L. Patrick. He was sworn in Wednesday, Nov. 5 by State Rep. Stephen L. DiNatale, D-Fitchburg.
"I am honored to represent my fellow students on the Board of Higher Education," said Gregoire, who is also president of Fitchburg State's Student Government Association and formerly served as the elected student representative to the University's Board of Trustees. "It's going to be an exciting time."
The Board of Higher Education is responsible for defining the mission of and coordinating the Commonwealth's system of public higher education and its institutions.
"It is an honor for the school and it's more of an honor for Nate and the impact he's had statewide," said Fitchburg State President Robert V. Antonucci.
Gregoire is the second Fitchburg State student to serve as a student representative to the Board of Higher Education. The last Fitchburg State student to hold the post—which rotates between community colleges, state universities and the University of Massachusetts—was Eric Gregoire, Nathan's brother, who graduated from Fitchburg State in 2011.
Nathan Gregoire's term on the Board of Higher Education will expire April 30, 2015.
Fitchburg State University senior Nathan A. Gregoire of Ludlow has been sworn in as student representative to the Massachusetts Board of Higher Education.