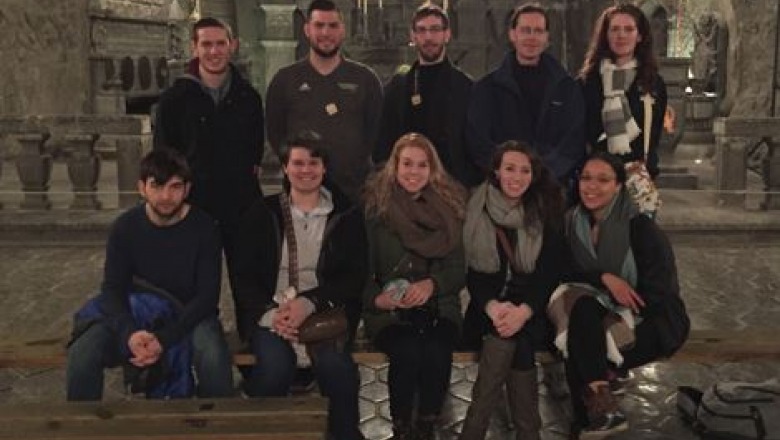 Professor Joshua B. Spero taught the course, entitled Europe Today, and accompanied the students to Krakow, Poland in March.
"It is always an incredible journey to a country like Poland with such a tragic and triumphant history, and our students experienced such extraordinary sites, culture, tradition, and proud people that were life-changing," he said. Spero described Krakow as an international crossroads for Western and Eastern civilization.
"Europe Today" is an introductory political science and history course focusing on major themes in European history, politics, philosophy and economics. In the weeks leading up to the spring break trip, the students explored the roots of contemporary Europe, particularly the post-Communist era with the fall of the Berlin Wall, collapse of the Soviet Union, re-emergence of democracy and Central and Eastern Europe, and the subsequent challenges of post-9/11 Europe.
Students from Fitchburg State University's course on contemporary Europe will discuss their experiences traveling abroad over spring break during a presentation and discussion at 6:30 p.m. Wednesday, May 3 in Miller Hall. The event, which will include a meal of authentic Polish food, is free and open to the public.