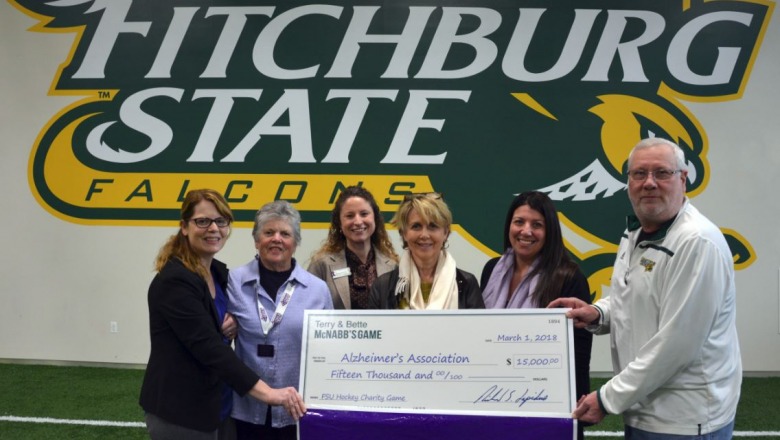 Shown here presenting the funds are, from left, Karen McNabb Noon, Bette McNabb, Fitchburg State Director of Alumni Relations Emily Austin-Bruns, Kathleen McNabb Hatch, Alzheimer's Association Senior Development Officer Melissa Shirtcliff and Falcons Hockey Coach Dean Fuller.
Sponsors included:
Dunkin' Donuts, The Catalano Companies
Sterilite Corporation (Townsend)
UMassMemorial HealthAlliance-Clinton Hospital (Leominster)
Montachusett Pest Control (Townsend)
Townsend Ford (Townsend)
Fifth Gen Masonry and Concrete, LLC (Townsend)
Apple Meadow True Value Hardware (Townsend)
Townsend Dental Group (West Townsend)
Anderson Family Funeral Homes (Townsend-Ayer-Fitchburg)
Rollstone Bank & Trust (Townsend)
Slattery's Restaurant (Fitchburg)
The Shepherd and Jones families (Townsend)
McNabb Pharmacy & Home Healthcare (Townsend)
Townsend Veterinary Hospital (Townsend)
Delaney Antique Clocks (West Townsend)
Evans on the Common (Townsend)
Patriot Barber Shop (Pepperell)
E.B. White Memorabilia, Inc. (Townsend)
Champion Cleaners (Townsend-Hudson)
Think Local, Inc.
The Alzheimer's Association received a check for $15,000 raised when the Fitchburg State University Falcons paid tribute to longtime Assistant Hockey Coach Terry McNabb. Proceeds from "Terry and Bette McNabb's Game" came from ticket receipts, sponsorships and other donations raised by the late coach's family.