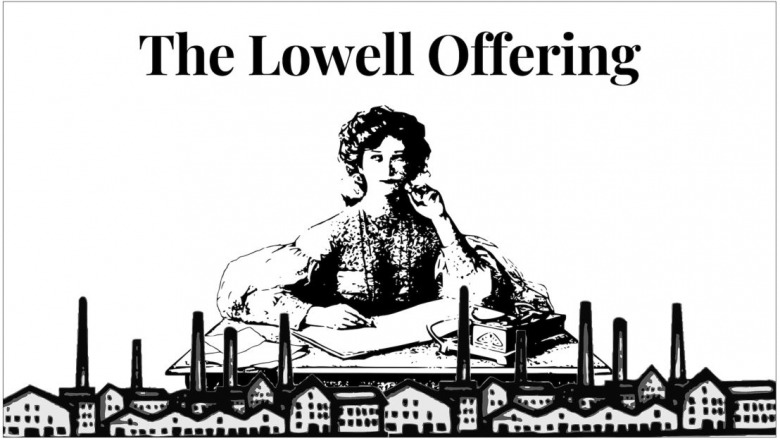 The Lowell Offering
, on June 14 and June 15 at 7:30 PM in Kent Recital Hall in the Conlon Fine Arts Building, 367 North St. Admission is free with a suggested donation of $3 - $10 and open to the public. The staged reading will be followed by a talk back session with the playwrights, Fitchburg State alumnus Andy Bayiates '97 and Genevra Gallo-Bayiates.
The Lowell Offering is a historical drama about the lives of women who worked in the Lowell mills at the start of the industrial revolution. In 1840 a group of factory workers began publishing the world's first magazine written solely by women; it was called "The Lowell Offering." This is the story of the magazine's editor, Harriet Farley, and a labor activist, Sarah Bagley—and the rise and fall of their friendship, the magazine, and Lowell's "Mill Girl" culture.
He and co-writer Genevra found the story compelling because many families in the region have a connection to the mills and the inspiring efforts of the mill women to better themselves and the lives of their fellow workers. Although it is a historical drama, it touches on issues that are still poignant today. "The world is always struggling with a battle between caution and change," says Andy Bayiates, "You see right now, especially on the left, a battle between incrementalism and revolution. The Lowell Offering is a story about two people who generally want the same things, but disagree on how to get them and so rather than helping each other, they wind up enemies."
This play is the final reading in a series of four new plays written or co-written by Fitchburg State alumni and presented by The Forge Theater Lab. This new company was founded by Fitchburg State Professor Kelly Morgan and several university alumni with a mission to develop new works. Learn more on their website.
The Lowell Offering is directed by alumna Kelly Stowell '07. The cast of includes Fitchburg State alumni Charles Amaral '08, Sharon Bernard '99, Jack Crory '07, Samantha deManbey '12, Nina DiRusso '18, Joanna Karamanou '97, Jen Knight '89, along with Lowell actress Kayla Schenk.
The Forge Theater Lab presents a staged reading of a new play,