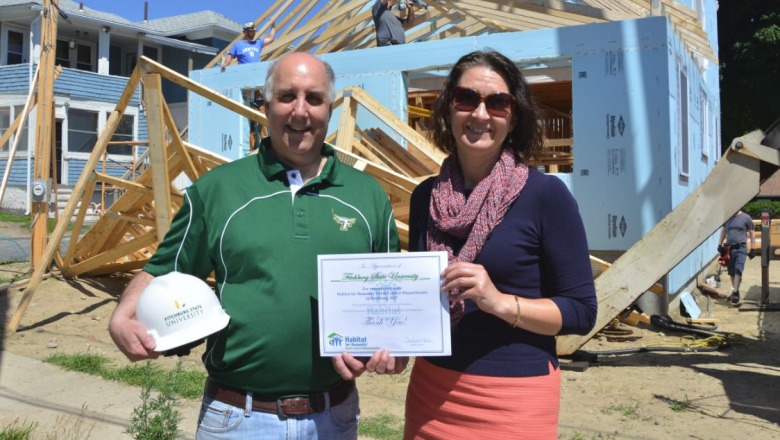 This summer, crews have helped build a new, accessible home for a family of nine at 50 Henry St. in Fitchburg and helping with a critical home repair on Peabody Street in Gardner. The first week of the Fitchburg State build focused on alumni, with university graduates and staff from the alumni and development office lending their time and effort to the project. Habitat volunteers are given safety equipment and any training necessary to assist at job sites.
The second week included more than 30 employees as well as students and alumni at the site, including members of the senior staff and Fitchburg State President Richard S. Lapidus.
"The university has enjoyed a long history with Habitat for Humanity, including many years sending crews on Alternative Spring Break trips to Habitat builds across the U.S.," Lapidus said. "We were honored to support a project that will support a local family through the efforts of our own students, faculty, staff and alumni."
"The volunteers from Fitchburg State University alumni, faculty and students were a tremendous help to our build on Henry Street," said Habitat for Humanity North Central Massachusetts Executive Director Carolyn Read. "It's wonderful that the community came together to help bring a local family home."
The home is expected to be ready for occupancy later this year.
To learn more, visit the Habitat for Humanity North Central Massachusetts website.
More than 50 members of the Fitchburg State University campus community – including students, alumni, faculty and staff members – answered the call when volunteers were sought to help out with Habitat for Humanity North Central Massachusetts builds in Fitchburg and Gardner.