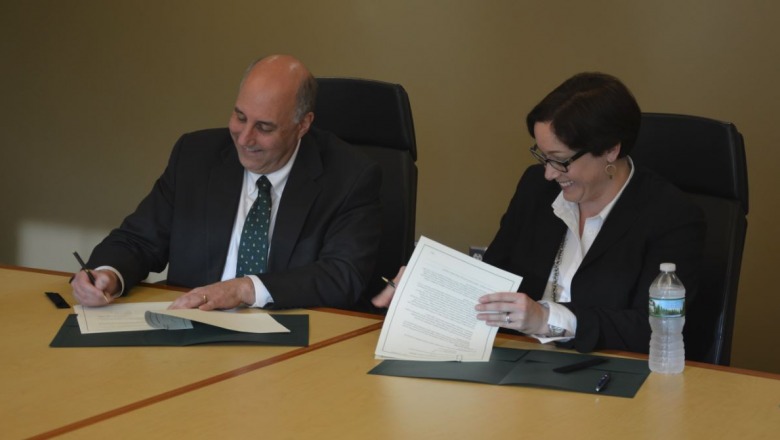 The agreement to extend this program for another year was signed by Fitchburg State President Richard S. Lapidus and Sizer School Executive Director Courtney Harter. The program is supported by a Commonwealth Dual Enrollment Program grant from the Massachusetts Department of Higher Education.
 "This program will help students gain access to a high-quality collegiate experience at the same time it helps the state meet its needs for skilled workers in the STEM fields," Lapidus said.
"Sizer is thankful for our partnership with Fitchburg State University," said Harter. "The collaboration, coordination, and communication necessary to develop and sustain an Early College High School initiative is substantial; without great dedication this would not have happened. This pathway has provided opportunities for Sizer students to experience college and earn credit, well in advance of making the transition from high school to college. It sparks their interest, pushes their thinking, and expands their opportunities.  As a school that values Think, Care, and Act, we believe Fitchburg State's commitment to this program exemplifies our core mission and vision, and we are proud to continue our partnership."
The program, referred to as STEM ECHS, is designed to increase the rate of college-going for students currently underrepresented in higher education and to build an accelerated route linking secondary education with postsecondary educational opportunities. It is the hope of both parties that the successful implementation of this program will lead to improvements in student achievement in STEM subjects and increased enrollment in STEM college majors, especially for low-income, female, underrepresented minority, or first-generation college students.
Now in its third year, the model combines rigorous high school academic standards; college readiness standards; a variety of academic supports; community service opportunities in the STEM field; and the opportunity to earn up to 15 college credits while in high school. Upon successful completion of the STEM ECHS program, students would be accepted into the Industrial Technology or biology programs at Fitchburg State if all other university admissions criteria are met. Six of the eight seniors plan to pursue a STEM major and career, and six have applied or plan to apply to Fitchburg State.
Sizer School, located in Fitchburg, is a free public charter school serving approximately 350 students in grades 7-12 from 30 surrounding towns.
Fitchburg State University and the Sizer School have signed a memorandum of understanding that continues its early college high school pathway focused on science, technology, engineering and mathematics.  Now in its third year, the program offers Sizer's eleventh and twelfth grade students the opportunity to earn up to 15 college credits while still in high school.