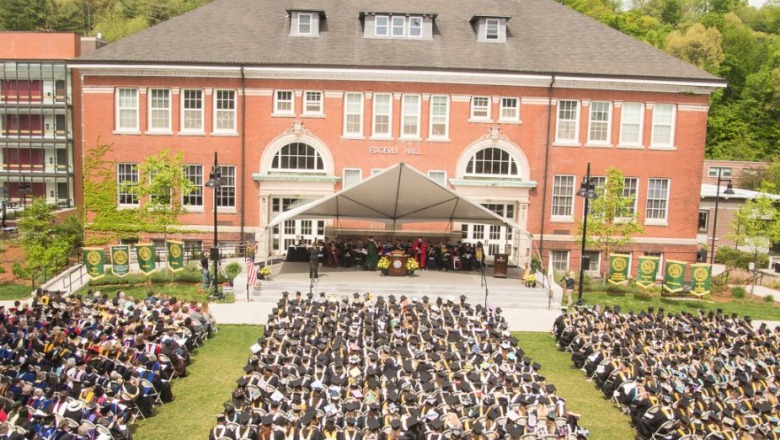 The commencement address at the undergraduate ceremony on May 21 was delivered by educator and alumna Barbara Wilson, who graduated from Fitchburg State in 1980. Wilson is the co-founder and co-president of Wilson Language Training, which works with teachers, school systems and universities to improve literacy for all students. Wilson programs are in school districts large and small in all 50 states.
In her remarks, Wilson urged the graduates to be mindful of the power they have to shape their environment, not only as stewards of the planet, but as members of a community.
"As you enter the workforce full-time, the environment where you work will be a major part of your daily life experience – in fact – it will likely fill the highest percentage of your waking hours," she said. "You will have the opportunity to raise up that environment, or help tear it down. When issues or problems arise between co-workers, you can escalate or de-escalate. When gossip and negativity are spoken, you can pass those on, or walk away. These things matter immensely. The way to make our world great, is by creating a great world. That is by choosing words thoughtfully, by choosing actions that are positive and presenting yourself with class, not crass."
Wilson said as she began her own work career she sought like-minded people. "At our company, we have changed the saying, 'The devil is in the details,' to 'Love is in the details.' And it is. Whatever you are doing, don't do half-heartedly. Do it with great care and diligence, and yes, love."
Wilson was awarded an honorary degree from Fitchburg State President Richard S. Lapidus during the ceremony.
The undergraduate ceremony also included the presentation of the President's Medal to Mount Wachusett Community College President Daniel M. Asquino, the state's the longest-serving president in public higher education.
"Dr. Asquino has led Mount Wachusett Community College with honor and distinction for nearly 30 years," Lapidus said. "This presidential tenure is significant not only for its length, but for the scope of its achievement. Under President Asquino's leadership, Mount Wachusett has seen a tremendous growth in enrollment; several satellite campuses have opened; and the number of programs available to its 12,000 students has been greatly expanded. This era of growth, in size as well as stature, is attributable to the vision of a born educator. President Asquino has embraced his college's role in the life of the region, creating limitless opportunities for students of all ages – from kindergarten to adults – to experience the life-changing power of education."
Lapidus also credited Asquino for his leadership in Mount Wachusett's commitment to veterans and green energy initiatives, along with his long record of civic engagement.
The valedictory address was presented by Matthew Walsh of Merrimac, who graduated with a degree in English Studies.
"Remember your time here at Fitchburg State as much as you turn your back to it and move forward with your lives," Walsh said. "It has shaped you in more ways than one, and you'd be remiss to forget the good and the bad that have gotten you to this point. … As you step up on this stage and receive your diploma, think of what type of person you want to be in the coming years. Look at your accomplishments and the skills that you've amassed here at this institution, and imagine the brightest of futures to house them in. Take a moment and realize that picture in your head as you're sitting here. As you step down from this stage, you're the judge of whether or not that becomes a reality."
At the
graduate commencement
ceremony on May 19, Ross L. Caputi of Lunenburg was recognized with the Graduate Student Leadership Award. In his remarks, Caputi urged his fellow graduates to use their sharpened intellects to ask challenging questions. Caputi served in the Marine Corps and has become active in antiwar efforts.
"As people with intellectual vocations, we are uniquely situated to make an intervention into state power and state violence," Caputi said. "I know, we never asked for this. We also have the unlucky burden of being born into a period of human history when the world is in the midst of a number of global crises, several of which threaten the very survival of our species; but none are insurmountable, if we could only educate people about these issues and mobilize them. Our generation has been saddled with responsibilities like none other before us.
"The famed philosopher and linguist, Noam Chomsky, wrote eloquently in 1967 of the responsibility of intellectuals, imploring them to 'speak the truth,' 'expose lies,' and to challenge power and authority," Caputi continued. "His words are no less apt today, because our society can no longer afford the luxury of not knowing. And here we are, receiving advanced degrees, with urgently useful skills."
Photo galleries from the graduate ceremony and undergraduate ceremony can be viewed on the University's Facebook page.
Fitchburg State held its 120th commencement exercises, spring ceremonies in May. Approximately 850 undergraduate and graduate degrees were awarded by the University this spring.