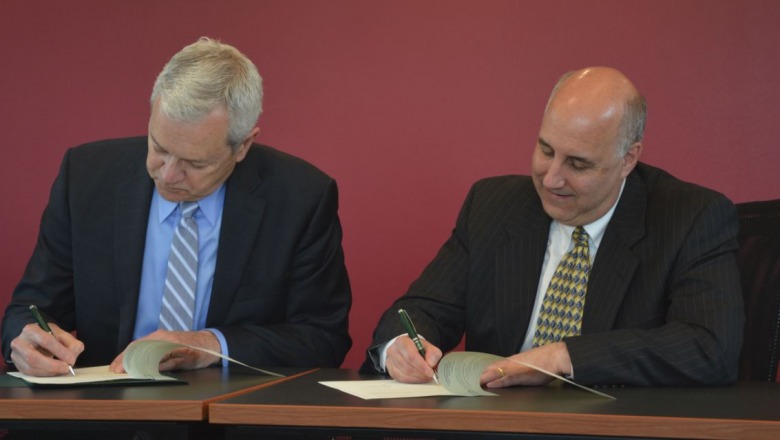 The agreement was first signed in 2013 and the renewal signed this week extends it through July 2022.
Students graduating from the Fitchburg High Honors Academy will be guaranteed admission to Fitchburg State. Students who qualify for the University's Honors Program are eligible for annual $2,000 scholarships, and Honors Academy graduates will be eligible for additional, renewable $500 scholarships.
"Education is an ecosystem, not a hierarchy," Fitchburg State President Richard S. Lapidus said. "It's great to partner with the Fitchburg Public Schools. I see us as a team."
Superintendent of Schools Andre Ravenelle said the Honors Compact is a rarity and an excellent opportunity for students.
"Fitchburg State University has everything here for a student that's ready to soar," he said. "We're thrilled."
Fitchburg State student Michelle Ptak graduated from the Fitchburg High Honors Academy in 2017 and said the rigor of that program was solid preparation for collegiate work. "The Honors Academy was the best thing I could have done to get ready for Fitchburg State," said the Communications Media major, who amassed a year's worth of college credit through Advanced Placement courses and dual enrollment courses in high school.
Audrey Johnson graduated last week from Fitchburg High School and enrolls this fall at Fitchburg State as a nursing major. She said her experience in the Honors Academy pushed her to further her education, and the time she's already spent at Fitchburg State has allowed her to form relationships with the campus community.
"It's just one more thing we can point to," said Fitchburg Mayor Stephen L. DiNatale, himself a Fitchburg State alumnus. "We're really doing a terrific job."
Fitchburg High School Principal Jeremy Roche, also a Fitchburg State alumnus, said the Honors Compact grew out of a desire to serve his school's high-achieving students. "This is a unique partnership," said Roche. "This is great for kids and for both institutions. It's what helps (students) get a leg up on their college experience. I can only say thank you (to Fitchburg State). It's been wonderful."
Assistant Vice President for Academic Affairs Catherine Canney said the program was a way to create an early college experience for city students to learn about the educational opportunities in their own backyard. She also said Fitchburg State remains committed to creating additional dual enrollment opportunities for area high school students.
About the Honors Compact
The purpose of the compact is to establish collaborative opportunities between the Fitchburg High School (FHS) Honors Academy and Fitchburg State University and its Honors Program. This agreement was first originally created and signed in October 2013.
Benefits of this compact will include:
Priority admission
Access to Fitchburg State University resources
Expanded dual enrollment opportunities
Officials from Fitchburg State University and the Fitchburg Public Schools signed a four-year extension of their Honors Compact, establishing collaborative opportunities between the high school Honors Academy and Fitchburg State's own honors program.