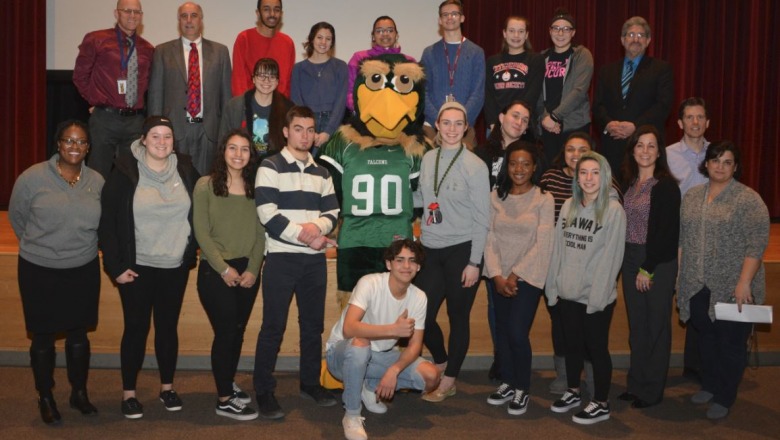 Eighteen members of Fitchburg High School's Honors Academy were informed in a ceremony Monday morning they had been granted acceptance into the Honors Program at Fitchburg State University, with annually renewable scholarships and access to specialized coursework.
Fitchburg State President Richard S. Lapidus was joined by Fitchburg Mayor Stephen L. DiNatale, Fitchburg High School Principal Jeremy Roche and other leaders from the University and city for the announcement. The Fitchburg State athletic mascot Freddy the Falcon joined the students for a group photo.
The Honors Academy at Fitchburg High School has been closely aligned with Fitchburg State since its inception, with students taking dual enrollment courses, gaining access to university resources and participating in other university activities. All of the students recognized Monday had already been informed of their acceptance to the University, but their acceptance into its Honors Program was new.
"Obviously your four years of hard work is paying off," President Lapidus told the students. "We'd love to have you join us in the fall. You're great representatives of Fitchburg High."
Fitchburg High Principal Roche, himself a Fitchburg State alumnus, told the students to consider the opportunities the University's Honors Program would create.
"This partnership is super beneficial to our students and we're grateful for what we've been able to do together," he said. "I had an unbelievable experience at Fitchburg State, so you should consider this opportunity. You've made your school proud, your city proud and your parents proud."
The partnership between Fitchburg High and Fitchburg State University has been a strong one, says Fitchburg Public Schools Assistant Superintendent Paula Giaquinto.
"The opportunity that this collaborative relationship offers to our students is really exceptional," she said. "It supports their dreams, their vision, the idea that college is accessible and attainable. Then, to have it fulfilled in a day like today where they are offered an actual scholarship over many years, it makes it very real to them. It's just an extraordinary compact."
The Fitchburg High Honors Academy students who have been accepted into Fitchburg State University's Honors Program include: Alexander Alejandro, Kylie Dudek, Judith Hanson, Charles Jackson, Audrey Johnson, Facundo Mieres Sosa, Logan Miles, Sharon Nelson, Michael Nowd, Michael Pawson, Essence Perry, Erin Primeau, Agustina Silvera, Marisa Trainque, Landon Tucker, Lurenne Velazquez Carrasquillo, Jada Walker and Hannah Wilder.
Johnson was thrilled to be accepted into Fitchburg State's Honors Program. She plans to study nursing at Fitchburg State in the fall.
"I heard the nursing program is fantastic," said Johnson, who also plans to play softball for the Falcons. "This is an awesome opportunity. It's going to help me afford college a lot easier, too."
Staying close to home to continue her education was also a positive for Johnson.
"It's less student loans, it's so much cheaper and it's college," she said. "It's an awesome education and it's right next door. I don't know why I would pass that up? It's perfect."
In the University's Honors Program, first-year students take challenging interdisciplinary courses that emphasize proficiency in writing and research, analytical skills, teamwork and the delivery of presentations. They also attend seminars that offer direct experience in service learning and the arts.
As sophomores and juniors, Honors Program students take an average of one honors course per semester, and then complete their honors work with a two-semester honors thesis in an area of their choosing.
The students will also receive a $2,000 scholarship renewable for four years at Fitchburg State.
Visit the Honors Program page for more information about the program at Fitchburg State.