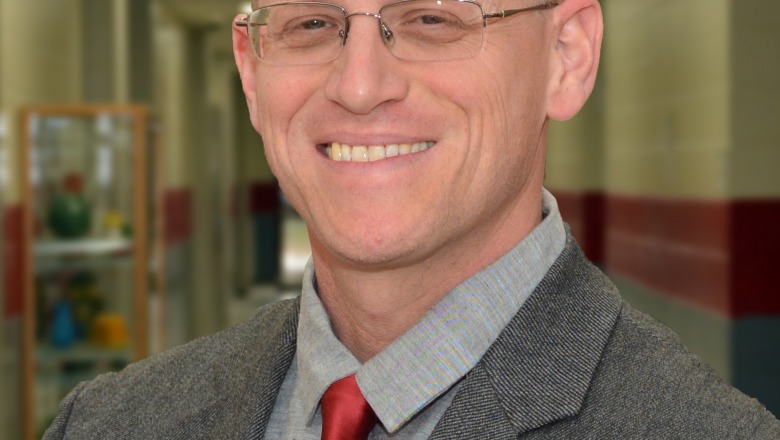 118th Commencement Exercises
Undergraduate Spring Ceremony on Saturday, May 17 at 10 a.m. on the main quadrangle.
Roche has been the principal of Fitchburg High School since 2011, where he has transformed the school culture by embracing high standards and broad expectations for all students. The result has been improved academic performance and a reduced dropout rate in a school serving a diverse urban population.
"Jeremy Roche is a fine example of Fitchburg State's rich history of preparing educators," Fitchburg State President Robert V. Antonucci said. "He has already impacted the lives of thousands of students, and the bridges he is building between the high school and this university will create additional educational opportunities. We are honored to acknowledge him with this award."
Roche led the effort to research and design a four-year Honors Academy teaching team at the high school, created to support gifted learners in their pursuit of academic and civic excellence. The project included a groundbreaking Honors Compact with Fitchburg State University, giving high school students access to university programming and research facilities as well as expanded dual enrollment opportunities. In the Honors Academy's first year, more than two dozen high school freshmen have already taken courses on the University campus. The effort has strengthened recruitment efforts at Fitchburg High School and given educators increased opportunities for collaborative teaching.
Fostering intensive teacher collaboration is also at the center of another of Roche's initiatives at Fitchburg High, a freshman "School within a School" supporting the most at-risk learners matriculating from middle school. The program has helped guide students once at high risk of dropping out of high school continue their educational journeys into college-preparatory coursework.
Roche has also investigated and written grants to help dramatically increase the number of Advanced Placement offerings available to Fitchburg High students. The diversity of students enrolling in these courses has also grown under Roche's stewardship.
Roche's educational career began as a high school English teacher in Marshfield. After three years teaching English at Nashoba Regional High School Roche was appointed assistant principal of the school. He served in that role for seven and a half years after which he was named principal. He served as Nashoba's principal for four years before assuming his duties at Fitchburg High.
He graduated with honors from Fitchburg State University with a bachelor's degree in English and a minor in Spanish in 1994. He completed his master of education in leadership and educational administration at Worcester State University in 2001.
Roche lives in Ashburnham with his wife, Kara, also a Fitchburg State alumnus, and their children Emma, 11, and Luke, 5.
Earlier the University announced that Christopher Maloney, a 1989 Fitchburg State graduate, will present the commencement address. Maloney is the Chief U.S. Probation Officer for the District of Massachusetts.
The University will also hold a graduate commencement ceremony on Thursday, May 15 at 6:30 p.m. at the Athletics and Recreation Center, 130 North St. Additional honorees will be announced as the commencement ceremonies near.
Fitchburg State University will present its Distinguished Alumnus Award to Fitchburg High School Principal Jeremy Roche, a 1994 graduate of the University, at its