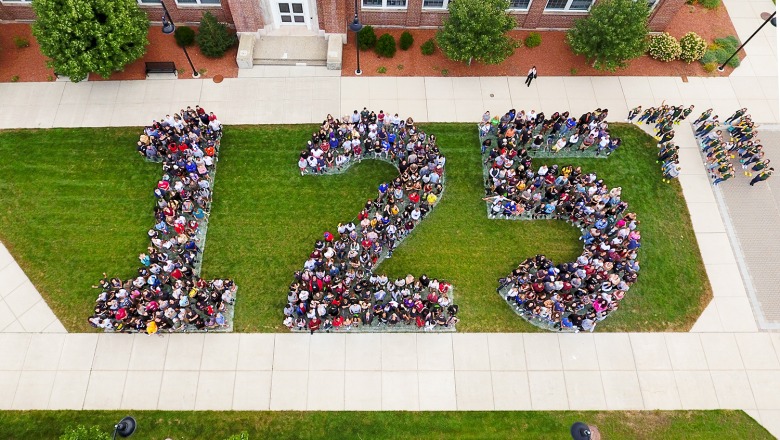 An original composition heralding Fitchburg State's 125th anniversary will be premiered during a recital by members of the University's music faculty at 7:30 p.m., Thursday, Oct. 24 in Kent Recital Hall in the Conlon Fine Arts Building, 367 North St. Admission is free and open to the public.
The performance will include selections from faculty members Robin Dinda (composer), Jane Fiske (piano), Jonathan Harvey (baritone) and Amy McGlothlin (saxophone). The professors are members of the University's Humanities Department.
Accompanists will include Alanna Rantala and Roy Imperio on piano.
Following individual selections by the faculty performers, together they will present the premiere of "Quasquicentennial" by Professor Dinda, along with two other original compositions making their debut at the concert.
For more information about Fitchburg State's music programs, visit the Music page.
About the Performers
Robin Dinda is Professor of Humanities (Music) at Fitchburg State University, where he has taught since 1989.  He is also Director of Music at The First Parish (Unitarian - Universalist) in Fitchburg, where he has presided over the church's historic Skinner organ since 2000.  Dinda began composing at age eight, and has written hundreds of compositions since then, with performances of his music done by numerous performers on four continents.  His publisher, Wayne Leupold Editions, has issued over 80 of his compositions.  Dr. Dinda earned degrees from Davidson College, The University of Cincinnati, and The University of Michigan, and holds the Fellowship Certificate of The American Guild of Organists.
Jane Fiske is Professor of Humanities (Music) at Fitchburg State University, where she has taught since 1986. She has served as Humanities Department Chair and Interim Dean of the Division of Arts & Sciences. She holds a DMA degree in music education from Boston University and BM and MM degrees in piano performance from the New England Conservatory of Music. She studied with Maria Clodes Jaguaribe, Gabriel Chodos, and Maria Bono, and has performed as recitalist throughout the New England area and as principal soloist with the Indian Hill Symphony Orchestra, the Salem Philharmonic Orchestra, the Marlboro Symphony Orchestra, and the Thayer Symphony Orchestra as winner of the Concerto Competition. She has released CDs featuring music by Scarlatti, Clara and Robert Schumann, Brahms, Villa-Lobos, Messiaen, Chopin and Debussy. Dr. Fiske has presented papers at conferences nationally and internationally on women in music, arts and humanities, and critical and creative thinking in music for the College Music Society, the Festival of Women Composers, and the International Conference on Arts in Society. She was recipient of the Marion & Jasper Whiting Foundation Fellowship and the Vincent J. Mara Award for Excellence in Teaching at the University.
Jonathan Harvey is Assistant Professor of Humanities (Music) and Director of Choirs at Fitchburg State University, where he has taught since 2017. He also serves as Music Director of the Brattleboro Concert Choir in Brattleboro, VT, and Music Director of the Summer at Sem Music Festival in Kingston, PA. He has previously held music director and teaching positions with universities and community music organizations in Massachusetts, Connecticut, Rhode Island, and Indiana. An active scholar, Harvey has published research in journals such as The Choral Scholar and Choral Journal, and presented at conferences including the College Music Society National Conference and the National Collegiate Choral Organization Biannual Conference. He holds a DMA degree in conducting and musicology from the University of Connecticut, an MM degree in choral conducting from Indiana University, and a BA in music and philosophy from Earlham College.
Amy McGlothlin is Assistant Professor of Humanities (Music) and Director of Bands at Fitchburg State University, where she has taught since 2018. She holds degrees in saxophone performance from Marshall University, the Longy School of Music, and Boston University where she studied with Ed Bingham and Ken Radnofsky. Dr. McGlothlin is a multi-instrumentalist, teaching saxophone, clarinet, and bagpipes in New England since 2003. She is a member of the Pharos Saxophone Quartet, Triage Woodwind Ensemble and is director of the Clan MacPherson Pipes and Drums. Dr. McGlothlin is an avid participant in the marching arts and has served on the staff of the University of Florida Gator Marching Band, the Dracut High School Marching Band and was the visual designer for the Andover High School Marching Band. She has led ensembles on tours in the United States, Scotland and Ireland and was the organizer and founder of the Salem State University Saxophone and Woodwind Day clinics secondary school students. Dr. McGlothlin is a Yamaha Artist and Rovner Products Ambassador.
Roy Imperio earned music degrees from the University of the Philippines and Andrews University and has taken master classes with Menahem Pressler at Indiana University. A dedicated piano teacher for more than three decades and a versatile pianist, he performs locally and internationally as a soloist, accompanist, collaborative pianist, and chamber musician. He has released two CDs:" Music of Frederic Chopin: A Life of Passion" and "Seleksiyon" plus "Holiday Music in New England" with The Bulfinch Players. He is piano faculty of the Fitchburg State Community Music Lesson Program, and is pianist for the Fitchburg State Concert Choir.
Alanna (Battat) Rantala recently relocated back to Massachusetts after 13 years in the San Francisco Bay Area. She holds a BA degree in music from University of CA, Davis and an MM degree in piano performance from the New England Conservatory where she studied with renowned pianist Leonard Shure. She has performed in several cities throughout the US, as well as London and Australia. Alanna has been on the faculties of Boston's Community Music Center, Brookline's Yamaha Music School, Fitchburg State University, Worcester's Joy of Music Program, and was vocal accompanist for Holy Cross College. She recorded "Winter Music" by John Cage for MODE records, performed the US premiere of "Serpents Mecanique" by George Antheil, and recently released her first solo CD of original piano music, titled "Recognize," which is available on Spotify, iTunes, etc. Ms. Rantala maintains a private piano studio and her students have won awards for performance and composition.