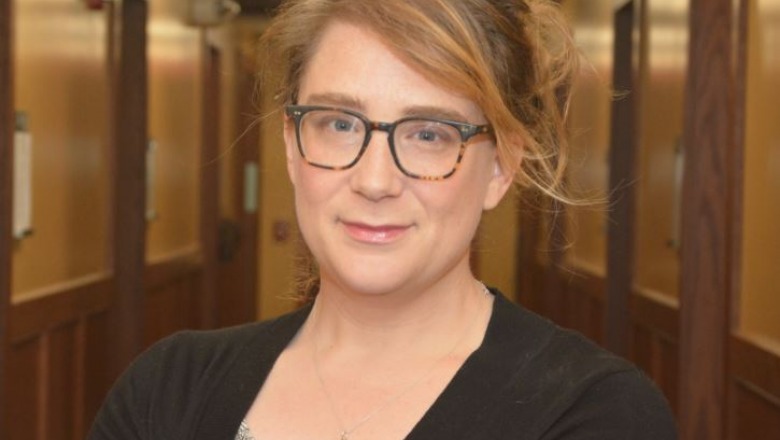 The following was published in the Washington Post on Friday, Oct. 26.
By Katherine Rye Jewell, PhD
Assistant Professor of Political Science
Kanye West isn't the only celebrity to shock fans for his support of President Trump. John Lydon — a.k.a. Johnny Rotten, frontman of the seminal 1970s punk band the Sex Pistols and a poster child for rebellion and sarcasm — recently appeared wearing a MAGA shirt in widely circulated photos picked up by the Mirror and Daily Mail.
The reaction was swift. A sampling of social media responses revealed a range of interpretations. Some fans denounced the singer and showman for the political statement because it seemed to violate his status as a self-professed individual thinker. Others shrugged at yet another attempt by the rocker to grab headlines. Some even dismissed the political authenticity of the Sex Pistols.
But we shouldn't be surprised by Lydon's MAGA turn. Shock tactics and spectacle — from singing "Anarchy in the U.K." to mark Queen Elizabeth's jubilee to sporting MAGA gear — has continued to make punk music relevant, revealing the blurred relationship between music and politics. And we also shouldn't think about this as just a political act. Punk music has long relied on converting anger into dollars, and Lydon may well be looking to cash in on outrage.
During the late '60s and early '70s, the MC5, an American rock band, broke new ground using artistic anger for political gain. They were the musical voice of the White Panthers, a Black Panther offshoot, and called outright for revolution. The FBI quickly wiretapped them, citing concerns that their music would encourage drug use and irresponsible sexual behavior. The MC5's first album, "Kick Out the Jams," suffered in sales because its titular song contained an expletive. But they helped seed a musical movement and pioneered shock tactics that followers would emulate.
But punk bands often defied political stereotyping. The Ramones featured a famous duality of Johnny and Joey. Johnny Ramone — a longtime Republican and conservative who declared at the band's induction into the Rock and Roll Hall of Fame: "God bless George Bush" — stood in stark contrast to Joey and his progressive politics.
Punk rockers of the era may not have shared a party, but they shared an ideology. Their songs revealed the consequences of inflation and deindustrialization and growled about "no future" in a society on the decline. These exhortations created a rallying cry for a group of people who felt unheard and left behind — something shared with the political strategy of populists from Coleman Blease in the early 20th century to Charles Coughlin during the Depression to George Wallace in the 1960s.
Although they varied in outlook from political populists, and fans often attacked white supremacists who co-opted punk's symbols, at their core, punk's adherents distrusted the mainstream. Fueled by localism and a do-it-yourself ethos, punk offered an alternative community and authenticity that heaped ashes on both mainstream culture and politics. As Lydon explained in an interview in 2017, "I naturally revolt against the system."
The Pistols revisited the media tactics of glam rockers and proto-punk groups like MC5 to grab headlines, such as their infamous 1977 boat cruise to mark Queen Elizabeth's jubilee, during which they sang "Anarchy in the U.K." when they reached Parliament.
But these stunts weren't just about rebellion. They were carefully contrived, as much about profit as about politics. Appearances such as the jubilee boat cruise made a political point, but what's more, they drew attention to the band and drove sales of their album, recently released on Virgin Records, and the single "God Save the Queen."
This showboating rebellion sold well. The Sex Pistols album "Never Mind the Bollocks" reached No. 1 on the U.K. charts, even though record stores and consumers charged it with obscenity. Although it didn't crack the Billboard Top 100 in the United States, the band and its American counterparts sparked a musical revolution that would influence musicians for decades — including overtly political bands such as the Dead Kennedys.
It wasn't that punk's progenitors were only about money. The Pistols once donned clothing that resembled, or perhaps was, trash in the streets as a garbage-workers' strike intensified. They popularized a style and iconography of rebellion that energized audiences. But their songs were not rallying cries of the working class. Instead, they reflected the anger of labor, engaging in antics that targeted the pretensions and artifice of popular culture and political pomp and circumstance.
And so perhaps it isn't surprising that their concerts sparked riots, and sometimes violence, without revolutionary vanguardism. Instead, the Pistols channeled a collective howl against existing power structures — any existing power structure, even their record label. Their behavior had led EMI Records to drop the band, though they would eventually release their first album — widely viewed as one of the most influential records of all time — with Virgin.
Even though fans who adopted the Pistols and punk for more overtly political ends might protest, Rotten's burn-it-all-down bravado used popular frustrations with the establishment for economic gain.
While the Sex Pistols spun out of control, Lydon continued his career with a new band, Public Image Ltd. He shed his Rotten persona, just as David Bowie relinquished Ziggy Stardust. But the lessons of punk rock, that shock-and-awe spectacle combined with raw anger can coalesce a cultural movement as well as drive record sales, continue to shape this new phase.
And that is why his MAGA T-shirt makes sense.
It is consistent with Lydon's statements about eschewing ideology and political parties. It is also indicative of Lydon's other recent political statements, such as his declaration of support for the working class and, by extension, Brexit, though not necessarily representative of his fan base or musical legacy.
Lydon's support for Trump appears to be based on a similar sentiment, but also an appreciation of style. They are connected by their populism and their understanding of the power of public image and branding — especially if the brand sparks an emotional response.
And it could be that Lydon also shrewdly understands how to manipulate the news cycle, just like the entertainer now in the White House.
Public Image Ltd. is currently touring North America, and the documentary "The Public Image Is Rotten" is now playing in cinemas.
Katherine Rye Jewell is assistant professor of history at Fitchburg State and author of "Dollars for Dixie."