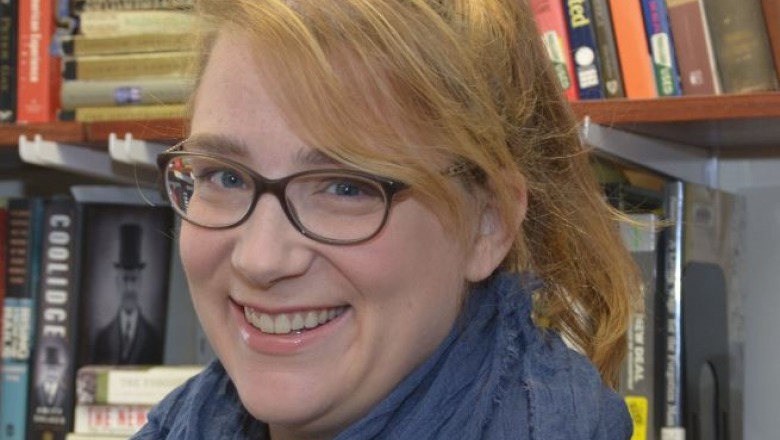 (This piece was originally published in The Washington Post on Wednesday, Nov. 15, 2017)
Assistant Professor of History
Fitchburg State University
Local radio has fallen on tough times.
When a Christian broadcasting network bought Brown University's commercial radio station, music fans grieved the disappearance of yet another genuinely alternative station. When the groups in charge of student media at Rice, Vanderbilt and the University of San Francisco (among others) sold or otherwise diluted the signals of long-standing terrestrial stations — mainstays in independent college radio — protests from alumni and local DJs had little effect.
Music fans are worried. Without hundreds of locally programmed stations to break new bands, how will music that challenges stale and restrictive cultural norms receive exposure? Would transformative bands of the past, like Jefferson Airplane, the Replacements and R.E.M. — bands whose early airtime came from alt-radio stations — have a chance in today's landscape?
Yes. In fact, artists and fans have long adapted to corporate takeovers of alternative spaces. Over the past 50 years, artists have shocked, subverted and challenged the consultant-driven formulaic popular music bred by massive media conglomerates. And they have done so by embracing new technologies and previously ignored alternatives.
These efforts have been part of a half-century battle between political resistance and cooptation that has permeated the airwaves. In 1967, college radio and free-form stations such as WBAI in New York City played lesser-known artists, exposing listeners to music that sounded very different from what aired on most Top 40 stations. In February of that year, Jefferson Airplane brought their psychedelia to college radio on the East Coast, invited by then-SUNY Stony Brook DJ Howie Klein, helping to expand their appeal nationwide.
The Beatles, who had shocked mainstream Americans with their shaggy hairdos earlier in the decade, soon adopted these countercultural images and practices to great acclaim: the Fab Four spent 15 weeks atop the Billboard charts with "Sgt. Pepper's Lonely Hearts Club Band," a drug-fueled departure for the band.
"Sgt. Pepper" catapulted the Beatles into even more stratospheric superstardom and led popular music in new directions, creating a new anti-establishment cool sensibility. But that popularity came at a price: The mainstream adoption of the countercultural style in the 1970s blunted its influence. Countercultural music lost the political transformation demanded by early visionaries like Jefferson Airplane. Long hair may have become popular, but it came at the cost of the movement's challenge to conformity and consumerism.
In the 1980s, as record labels consolidated, bands with more experimental sounds and critical messages looked to independent labels. A post-punk counterculture grew, nurtured by alternative media. But whereas countercultural bands in the 1960s aimed for mainstream television outlets like American Bandstand for exposure, bands in the 1980s turned to AM- and FM-based college radio stations and new niche cable television stations like MTV.
While the outlets had changed, however, the market for crossover music did not. Even as these new bands' dark and moody sensibility challenged the decade's optimism, they found a massive listenership. The Cure's "Kiss Me, Kiss Me, Kiss Me" achieved platinum status. "Music for the Masses," Depeche Mode's appropriately titled sixth album, featured a world tour ending at the Rose Bowl in June 1988. "The Joshua Tree" propelled another fab four — U2 — to superstardom.
By 1987 detachment and irony rather than psychedelia defined anti-establishment cool and politics. R.E.M.'s "It's the End of the World as We Know It (and I Feel Fine)" from 1987's "Document" suggested insouciance in the face of apocalypse. But the band offered keen cultural commentary and inspired activism, linking alternative music with politics. R.E.M., known for denying the right to use its songs for advertisements, challenged commercialism and updated protest songs for the 1980s. "Document's" third single, "Finest Worksong," referenced Henry David Thoreau and declared, "The time to rise has been engaged." The song's catchy, radio-ready orchestration challenged consumerist conceptions of the American dream.
Yet even as alternative media propelled insurgents and redefined the mainstream, these networks limited what bands defined "alternative," often reserving the term for white artists who appealed to middle-class, suburban white audiences.
In the 1980s, rap and hip-hop presented a different sonic revolution — one aimed at challenging white society's cultural hegemony. Alternative stations, however, lagged in sharing this new sound. While college stations often featured specialty shows for artists from minority communities or for R&B, rap and hip-hop, many did not add bands such as Public Enemy or BDP into regular rotation until the late 1980s.
Today, alternatives to the uniformity of corporate radio exist. While music journalists warn of the damage done by the sale of college stations such as WBRU, podcasts and websites such as Radio Survivor highlight college and community radio's viability and diversity. Stations may be sold and radio consolidation may accelerate, but commercial and non-commercial FM, AM, low-power FM, Internet broadcasting and podcasts still provide community services beyond music discovery. The transformation and disappearance of prominent stations are troubling, but popular college stations do remain.
Even where stations have gone online or transformed, alternatives emerge. After the sale of Vanderbilt University's prominent station, WRVU, Nashville activists launched WXNA in 2016. This free-form, listener-supported, low-power FM station resurrected several community programs from WRVU. Combined with platforms such as Bandcamp, SoundCloud and YouTube, artists can look to this diversified landscape to reach receptive listeners — and listeners can turn to these media to expand their musical horizons and mobilize around local issues with fewer of the limitations inherent in past alternative, underground networks. Similar LPFM stations, or plans for them, emerged in Houston and San Francisco.
The Internet democratizes access and exposure beyond what American Bandstand or MTV could provide previous generations, and today offers alternatives to commercial radio. Problems remain, particularly in the remuneration for artists, but new business models continue to emerge.
Thanks to new media networks, artists such as Chance the Rapper and Chris Stapleton can achieve stardom, and win Grammys, without extensive radio airplay. These networks connect to local communities and provide access for a diverse array of artists to reach audiences interested in their sound and message. With listeners able to cultivate their own content streams, the boundaries between "mainstream" and "alternative" grow less relevant and allow for more varied characterizations of what cool means in the 21st century.
Katherine Rye Jewell is assistant professor of history at Fitchburg State and author of "Dollars for Dixie" Follow @katisjewell