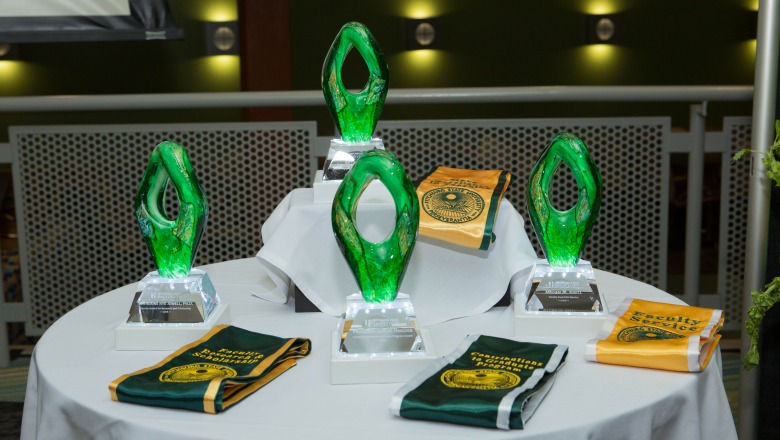 President Lapidus has announced the recipients of the 2020 Faculty Awards, presented in recognition of excellence in the profession. In a letter to campus announcing the awards, Lapidus said the winners "represent excellence by inspiring our students, amplifying the university's scholarship mission, advancing our graduate programs, and providing service that helps to strengthen not only our campus, but our community."
The 
Contributions to Graduate Program Award
 is presented to 
Dr. Daneen Deptula
, Professor, Department of Psychological Science and Chair of the Graduate Counseling Program.
This award recognizes graduate faculty who have a sustained record of teaching, mentoring, and advising graduate students. These faculty awardees have demonstrated a remarkable generosity and commitment to fostering the intellectual, creative, scholarly and professional growth of students who are pursuing the University's highest academic degrees, and nurture a community of intellectual engagement in which they thrive.
The 
Faculty Research and Scholarship Award
 is presented to
 Dr. Catherine Buell, 
Associate Professor, Department of Mathematics and Honors Program Coordinator
Recipients are faculty with a meritorious record of academic research, creative activity, scholarship, and mastery of subject matter. The awardees characterize the essence of teacher scholars who draw on the research and scholarship to inform and improve student learning through shared study, experimentation and analysis.
The 
Faculty Service Award 
is presented to
Dr. jenn berg
, Professor and Chair, Department of Mathematics.
The award honors faculty who have demonstrated superior service to the academy, the University, and our broad community. Recipients have a distinguished and prolonged level of involvement and are exemplary University citizens who have applied their role as good stewards of place to improve student learning and the quality of life for both our campus and our wide-ranging community.
The 
Vincent J. Mara Excellence in Teaching Award
 is presented to
 Dr. Paul Weizer, 
Professor, Department of Economics, History and Political Science.
Established in 1989 by the Alumni Association to honor former University President Vincent J. Mara, this award recognizes faculty who have contributed with distinction to the University's mission of providing superior undergraduate teaching. Awardees have demonstrated a sustained excellence in teaching, a notable impact on student learning, and a dedication to innovative instruction. The recipients are the foundation of the University's quest to educate future generations.
"It is extremely important that we recognize and celebrate members of our campus community for their contributions," President Lapidus said. "It is individuals like Daneen, jenn, Catherine and Paul that make Fitchburg State the vibrant, exceptional university to which we have all committed our professional lives.
"It is through the individual efforts of these faculty, and all of us, that contribute to the collective work of Fitchburg State that allows us to provide exceptional, educational opportunities for our students," he continued. "Our work is exhibited in the lives of the students that we have taught, advised, supported and mentored. I extend my very best to all of you for the fine work you continue to do."
The awards are typically presented in person the week following commencement at a celebration of faculty excellence, but that gathering was canceled this year because of the pandemic.