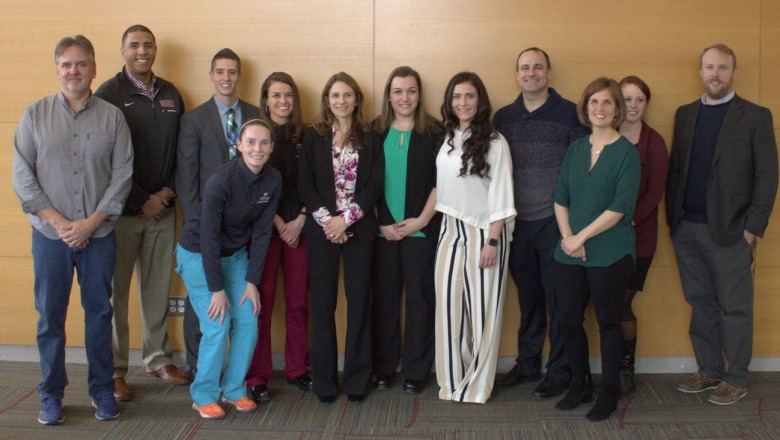 The Exercise and Sports Science Department recently welcomed back several distinguished alumni for their fourth annual alumni and career night at in the main lounge at Hammond Hall. The event included brief remarks from notable alumni followed by breakout sessions where current EXSS students could discuss opportunities one-on-one.
"My exercise and sports science career started right here in this room," said Chris Kibler '12, '15, who is currently the head cross country and assistant track and field coach at Mount Holyoke College. "For me it was about finding my passion. My true passion is working with young people. It's all about helping make well-rounded human beings."
Shannon Fitzgerald '14 studied clinical exercise physiology with a minor in psychology and currently works as an exercise physiologist at Marlboro Hospital. She recently finished her RN degree while working full time. "It was a crazy couple of years, but I survived it," she said.
"My advice to you is to network," Fitzgerald said. "A lot of times that will help you get your foot in the door."
Logan Johnson '11, '13, currently works as the assistant coach-defensive ends for Harvard University's football team. The Fitchburg native said it was a class in anatomy and physiology that he took as a high school junior that triggered his career path. "That was when the light really turned on," he said.
Johnson played football at Fitchburg State and was an assistant coach for the Falcons before getting hired at Harvard. "The program here is great," he told the students. "It's grown so much to where it is now, and I'm proud to be a part of it."
Other speakers included:
Megan Macomber '13, who just completed a physician assistant program at Bryant University and is interested in pursuing a career in emergency or orthopedic medicine. She has presented at the national level on public health topics.
Rebecca (Aldrich) Manning '14, an occupational therapist at a skilled nursing facility in Milford, N.H. She earned a master's degree last year and is interested in brain injury rehabilitation and pediatric feeding therapy.
Robert Logan '07 is a PhD student at Northeastern University. Since graduating from Fitchburg State he completed a master's degree in neuroscience from Brandeis University and began his doctorate program in 2015, where he is developing bioinformatic tools for analyzing mitochondrial DNA mutations.
Jacquelyn J. Rickson '14 is currently enrolled in a doctoral program in exercise physiology at Springfield College, anticipating graduation in 2019. As a student, she's involved with faculty research in sedentary behavior and the "Exercise is Medicine" program. After completing her program, she hopes to build relationships with primary care physicians to work with patients who are referred to her for education, counseling and strategies for long-term success.