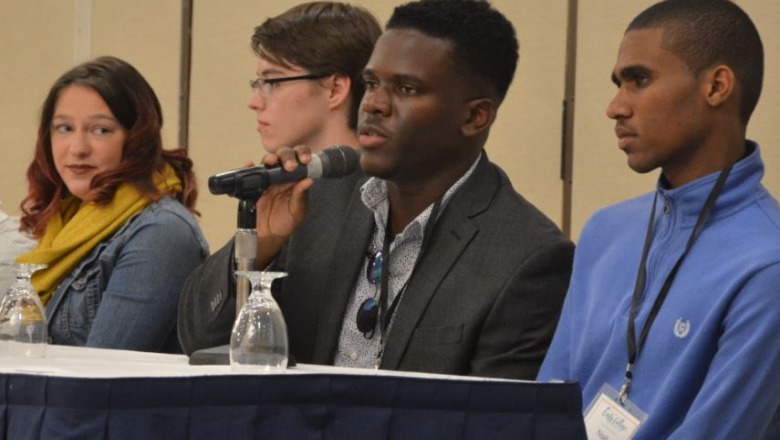 "It's something I know I can do," Pinnock said Friday at a daylong summit about the new North Central Massachusetts Early College Academy. Pinnock is pursuing a bachelor's degree in business administration at Fitchburg State. "I feel more confident in my dreams. I can definitely achieve what I've always wanted to."
Early college programs are proven to make real progress in closing achievement gaps, Board of Higher Education Chairman Chris Gabrieli and Commissioner of Higher Education Carlos Santiago said at the summit, which brought together representatives from Fitchburg State, Mount Wachusett Community College and high schools in Fitchburg, Gardner and Leominster, along with students and business leaders.
The North Central Massachusetts Early College Academy will build upon early college programs already in existence at the member schools, creating an overarching model that incorporates their best practices and expands the number of students who can be accommodated. The program is designed to serve students who are first-generation, low-income and otherwise under-represented in higher education.
"It's malpractice for us not to do this," said Gabrieli, who saluted the leaders behind the regional collaboration that includes Fitchburg State, Mount Wachusett Community College, Fitchburg High School, Gardner High School, Leominster High School, and the Sizer School.
Commissioner Santiago said for all of Massachusetts' success in K-12 education, achievement gaps persist for students of color. "The reality is Massachusetts is one of the worst-performing states in terms of gaps between white students and students of color," he said. Early college programs have been proven to close those gaps in other states.
Provost and Vice President for Academic Affairs Alberto Cardelle said first-generation students often struggle to adapt to the college environment, comparing high school to a sit-down restaurant and college to a buffet where you have to help yourself. "You have to have that agency," Cardelle said. "Early college is a way to address this, and learn how to navigate the waters of higher education. If you've never had that exposure, it's limiting."
President Lapidus, who introduced Commissioner Santiago's keynote address, agreed, saying students in early college programs change their mindsets and become lifelong learners through the exposure they receive. "We really need to think about education as an ecosystem," he said.
Tremaine Pinnock got a head start on his university education by enrolling in an early college program that showed him what it would take to complete a post-secondary degree.