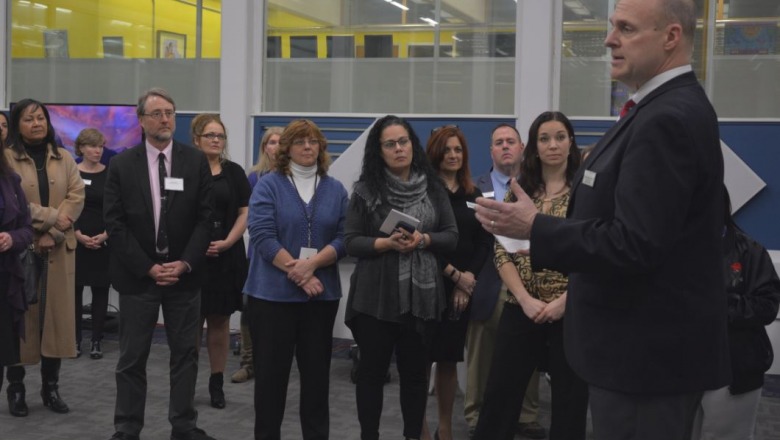 The Douglas and Isabelle Crocker Center for Civic Engagement at Fitchburg State kicked off a new initiative to avail community members of the expertise of university faculty while creating opportunities for students to put what they're learning into practice.
The Crocker Center Community Scholarship Group launched with a reception at Montachusett Opportunity Council headquarters on River Street.
"This project will unite our faculty's scholarly interests with community needs in a powerful way,"  President Lapidus said. "This will be a win-win for the campus and the city."
Provost and Vice President for Academic Affairs Alberto Cardelle welcomed approximately 50 guests at the event, including Fitchburg State faculty and staff, as well as leaders of business and community groups.
"We have a very large group of very qualified faculty and staff at the University with a range of expertise," Cardelle said. "All of them are looking for opportunities to apply the knowledge they have."
The formal structure of the Community Scholarship Group started taking shape a year ago. "The Crocker Center will be the link," Cardelle said. "We want to provide one more value proposition to the community."
Faculty members from the University's Behavioral Sciences, Business Administration, Communications Media, Earth and Geographic Science, Education, English Studies, Exercise and Sports Science, Industrial Technology, Mathematics, and Nursing Departments are part of the working group bringing the Community Scholarship Group to fruition.
"The new Community Scholarship Group adheres to, and expands upon, the Crocker Center's established vision, mission, and goals," said Professor David Weiss, the Crocker Center's coordinator. "The Crocker Center seeks to further enhance an already-vibrant university-community relationship, and heighten social capital and community cohesion through further university and community investments, and implementing such a Community Scholarship Group will help to do just that."
Weiss told the group gathered at the kickoff meeting that the projects the faculty will undertake through the Crocker Center also represent high-impact practices for students.
Faculty members described projects they had already undertaken with community partners as examples of where the new group could go.
Professor Jane Huang (Earth and Geographic Sciences) described projects she had worked on mapping neighborhoods for lead contamination and helping agencies direct resources to the areas of the highest need.
Professor Michael Greenwood (Business Administration) led a class working with the city's economic development team to develop a data-rich vision for the city's future and a new class is working with the recently opened River Styx Brewery downtown.
Professor Deborah Benes (Nursing) has conducted several projects concerning community health and food access.
Cardelle said another event to bring the local and campus communities together to discuss future projects is expected this fall, perhaps at the ideaLab the University is creating on Main Street.
The Community Scholarship Group will work on projects involving quantitative and qualitative research, such as designing and disseminating surveys, conducting focus groups and managing databases. They will help map and visualize data and conduct comprehensive needs assessments, or build capacity in training staff on research and evaluation.
For more information, contact Professor Weiss at dweiss@fitchburgstate.edu.