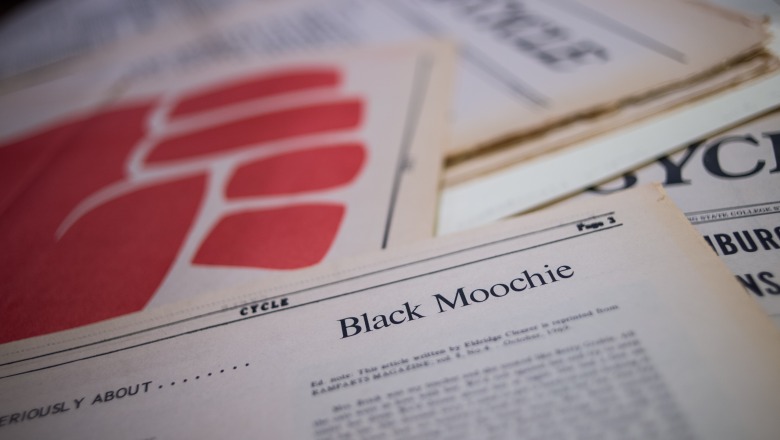 The Cycle, as the paper was then known, had already run afoul of school administration by trying to publish a profanity in earlier edition. The printer had whited it out and reported on the offending language to the president of the college.
Antonelli and his fellow newspaper staff members, eager to engage their peers in the political upheaval of the day, knew Cleaver's piece would get a reaction.
"Those were intense and radical days back then," recalled Antonelli, now an award-winning documentary filmmaker based in California. "It was easy for me to step out of bounds."
When The Cycle submitted their next issue, the printer refused to publish it, and then-President James J. Hammond Jr. told the students they would have to have future content screened by a committee before publication. The administration's action itself drew media attention, and the student journalists were advised that they had grounds to sue over their First Amendment rights being impinged. So the students, led by Antonelli, took President Hammond to federal court.
The case, known as Antonelli v. Hammond, was decided in the students' favor on Feb. 5, 1970.
"Because of the potentially great social value of a free student voice in an age of student awareness and unrest, it would be inconsistent with basic assumptions of First Amendment freedoms to permit a campus newspaper to be simply a vehicle for ideas the state or the college administration deems appropriate," U.S. District Judge W. Arthur Garrity wrote in his ruling.
Members of the newspaper staff will discuss their experiences, and their lives since those events, at 3:30 p.m. Tuesday, Sept. 17 in the main lounge at Hammond Hall, 160 Pearl St. Admission is free and open to the public. The program will be a window into how a turbulent time in American life was experienced on the Fitchburg State campus.
The event marks Fitchburg State's observance of Constitution Day and also helps launch the University's 125th anniversary celebration. Throughout the 2019-20 academic year, Fitchburg State will host a series of events and exhibits commemorating its evolution since its founding in 1894 as a teacher-training school and based around the theme of "125 Years of Changing Lives." Learn about Fitchburg State's history and keep up with anniversary year events on the Anniversary page.
Even 50 years later, John Antonelli can recall knowing he was going to strike a nerve when he sought to publish an excerpt of Black Panthers' founder Eldridge Cleaver's novella "The Black Moochie" in Fitchburg State's school paper.