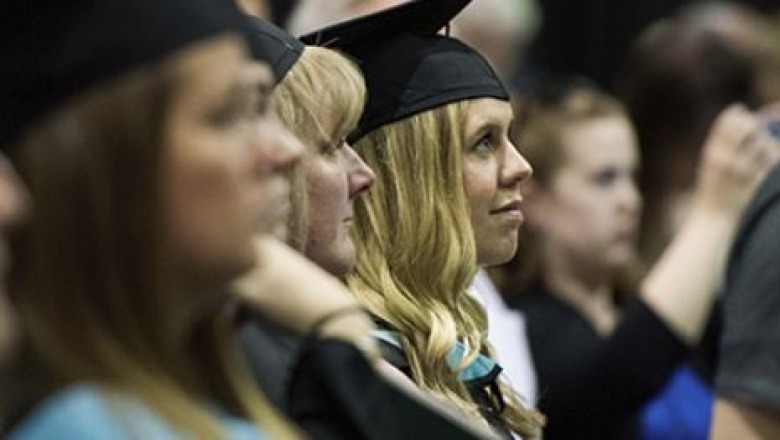 This week Fitchburg State University concludes the 2019-20 academic year, conferring 559 undergraduate degrees and 379 graduate degrees to students from more than 30 states and countries around the world.
President Richard S. Lapidus saluted the Class of 2020 in a letter this week.
You have been thrust into unimaginable circumstances, with the expectations for your final semester completely upended with barely a moment's notice. And yet, you have endured. You have risen to the challenges that confronted you, and overcome them to arrive at this milestone. 
Be proud of what you have accomplished, for it is no small feat. Even in the best of times, the completion of your college degree is a journey rightly filled with difficulty - which is, of course, part of what makes it worthwhile. Finishing a degree means working successfully under pressure, challenging one's limitations and broadening your horizons in pursuit of a lofty goal.
Like the thousands of alumni who have graduated from Fitchburg State before you, your arrival at this moment means your hard work has paid off. You have earned a credential, yes, but more importantly you have developed critical thinking skills that will serve you in the months, years and decades to come. You have honed your own ability to learn, to take in and evaluate new information, and to put it in service of your ambitions.
You arrived at this moment thanks to the dedication of a talented faculty, whose own lifelong commitment to their disciplines has been shared with you in their classrooms and laboratories during your time here. And our committed university staff have provided you the tools to learn and be supported through these extraordinary times.
Our entire community is disappointed that we cannot celebrate your achievement in person just yet, but know that we will do so as soon as it is safe. For the accomplishments of the Class of 2020 are many, and deserving of respect.
In the meantime, know that you distinguished yourselves in a chapter of history that will never be forgotten, and may you remember the lessons of this incredible time as proof that you can truly accomplish anything you set out to achieve.
Congratulations, be well, and we will see you soon.