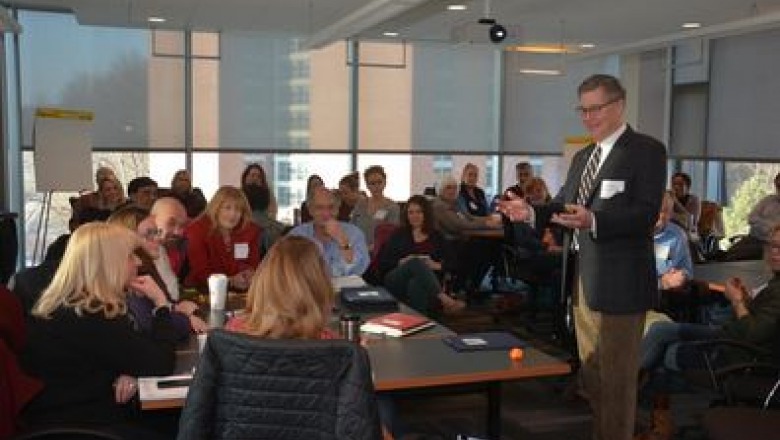 The program took place through the University's Community Research & Consulting Group of the Crocker Center for Civic Engagement. The effort links university faculty and staff expertise with community needs.
LUK Chief Executive Officer Beth Barto said looking to the University for guidance in the strategic planning process was a natural.
"We were established as an organization in 1970 in Fitchburg, and what better way to do this strategic planning than through our university?" Barto said. The organizations already have a strong working relationship, with LUK employees having studied at Fitchburg State and the University placing interns with the agency.
LUK representatives included senior leadership and board members as well as front-line direct service workers, Barto said.
Greenwood, who consults professionally in addition to his teaching, began the session with an icebreaking activity that challenged teams to build a structure out of uncooked spaghetti and marshmallows. The task proved challenging, as he said it always does.
"You need to iterate," he said. "You have a plan, then you iterate, always looking for a new way. You need to see any setback as an opportunity to learn."
To learn more about the Community Research and Consulting Group, please visit their website.
On a recent morning, Fitchburg State University Professor of Business Administration Michael Greenwood led a roomful of representatives from the Fitchburg social service agency LUK Inc. through a daylong strategic planning workshop. The organization provides community-based prevention, intervention, education, and support services for youths, adults and families.