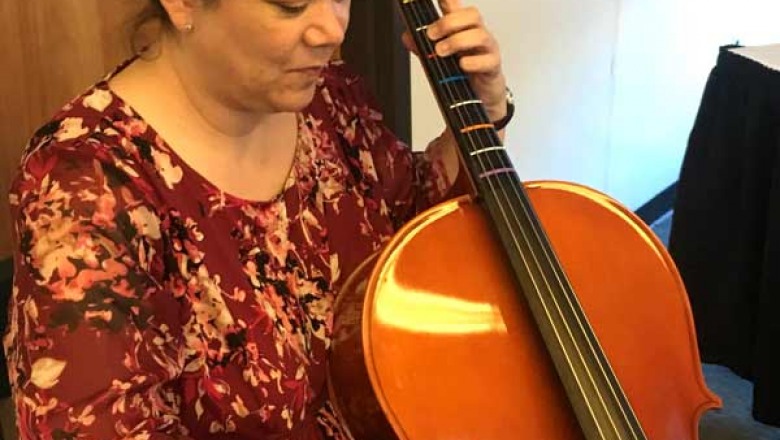 Fitchburg State University's Community Music Program is now being offered online, allowing students of all ages individualized instrumental and voice lessons in a safe format.
The Community Music Program lets students register anytime for sets of five, 10 or 15 lessons that range in duration from 30, 45 to 60 minutes. Schedules are personalized for each student and instructor, and lessons are available on a wide variety of instruments, including bagpipes, bass, cello, clarinet, flute, French horn, guitar, oboe, percussion, piano, saxophone, trombone, trumpet, tuba, ukulele, viola, violin and voice.
"The thing I loved most about having my violin lessons through Zoom is that I can still learn how to play the violin without physically going to my lessons," said Leila Marie, a middle school student. "And it gives me something to do while I'm stuck at home. I like how I can express my feelings through the music I play."
"Virtual learning fills a void and need that can otherwise be difficult to fill," said Mildred Owino, Leila's mother. "It provides another opportunity to engage in music and maintain skills while also enhancing the art of playing music that the student loves. Being able to connect with the instructor was a vital part of the virtual learning as well without which the student would not have made progress."
"The ability to teach lessons on Zoom has been so helpful during the pandemic," said Elizabeth Jacoby, Leila's instructor. "It was a great way to touch base with my students, answer their questions about lesson material, and keep them playing until we can meet face to face again."
Community Music Lesson student Tricia Flahive has been taking cello lessons from Laurie Strubbe for three years. "Through the program, I have found that the cello choir and multiple recitals have provided me with valuable feedback and opportunities to perform and grow as a musician," Flahive said. "Having taken lessons with other instruments and teachers has also been exciting and fulfilling and I'm grateful for the program's many phenomenal music instructors."
To learn more, contact Professor Hildy Schilling at hschilling@fitchburgstate.edu. Additional information, including instructor bios and online registration forms, can be found online at https://www.fitchburgstate.edu/academics/continuing-education/center-for-professional-studies/community-music-lesson-program/.