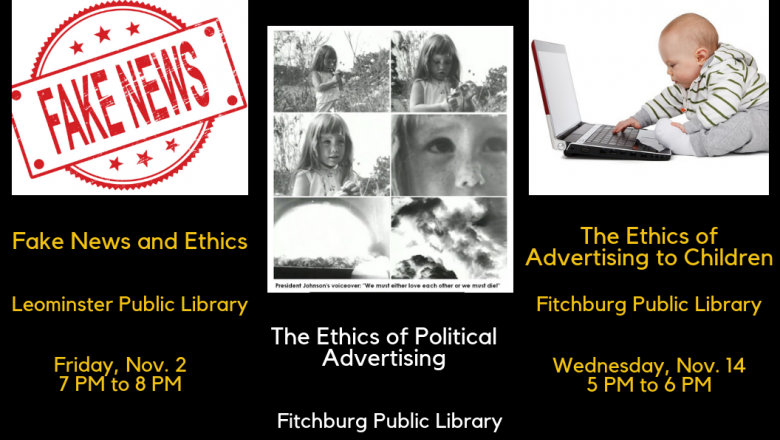 The series begins with a talk at 7 p.m. Friday, Nov. 2 at the Leominster Public Library about the ethics of "fake news."
The ethics of political advertising will be discussed at 5:30 p.m. Thursday, Nov. 8 at the Fitchburg Public Library, 610 Main St. Another talk, on the ethics of advertising to children, will be held at 5 p.m. Wednesday, Nov. 14, also at the Fitchburg library. The events are free and open to the public and refreshments will be served.
Fitchburg State Professor J.J. Sylvia, who teaches in the Communications Media Department, said the series emerged from his communications law and ethics course. Dr. Sylvia's students will plan and host the discussions, which have been organized in concert with a new chapter of the Society of Philosophers in America (SOPHIA), a national community partner fostered on creating local philosophic discussion groups.
The project is also supported by the Douglas and Isabelle Crocker Center for Civic Engagement at Fitchburg State University.
Issues surrounding contemporary communications ethics, such as political advertising and advertising to children, will be explored at public discussions organized by Fitchburg State University students and faculty this month at local libraries.