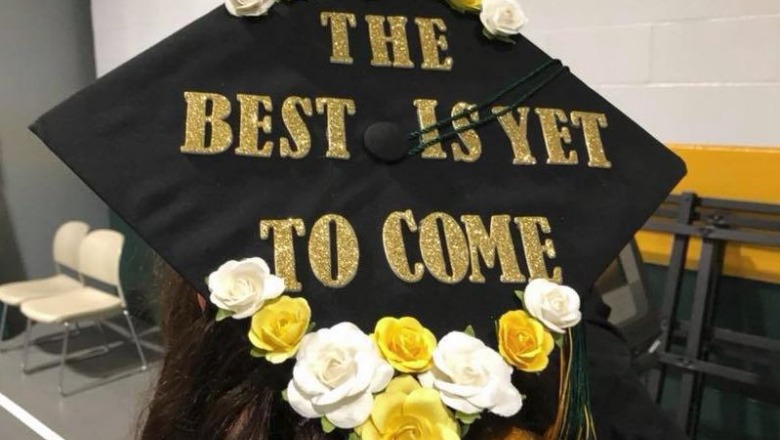 Brig. Gen. Frederick A. Henry, U.S. Army, retired, a 1984 Fitchburg State alumnus, gave the address at the undergraduate ceremony.
"In 1984, my graduation served as a pivotal moment for me, as your graduation will serve as a defining moment for you," Gen. Henry said. "When I sat in your seat, I did not have all the answers and I was nervous about how the next chapter would unfold."
His success–including a 30-year career in the U.S. Army and an ongoing career in industry—came from being open to new experiences.
"I just positioned myself to take advantage of opportunities I was presented," he said. "Like me, each of you will be presented with choices. What you do with the choices presented to you will shape your own individual stories and legacy."
For Gen. Henry, joining the ROTC program at Fitchburg State was such a crossroads, and began his successful military career.
"That goes to show you that it doesn't matter your gender, ethnicity, or social-status," he said. "When you start your journey just keep it moving and believe in yourself and never let anyone derail your dream.
"Never forget that you are a Fitchburg State University Falcon," he continued. "The falcon is often symbolized for its supreme focus, speed, strategic vision, and fearless character. These are attributes that were engrained in you here at Fitchburg State, and will be cultivated during your journey long after this milestone moment. So, when others take their eye off the prize, remain focused.  When the door of your opportunity is opened, don't doubt yourself, fall forward! Take advantage of your opportunities with confidence, and with the supreme focus of a Falcon."
Gen. Henry was also awarded an honorary doctorate during the ceremony.
In his remarks, President Lapidus urged the graduates to consider the importance of kindness, empathy and courage as they engage a wider world grappling with terrorism, corruption and political fighting.
"We must be courageous and raise our voices both for ourselves and more importantly on behalf of those who have no voice," President Lapidus said. "And where does kindness and empathy come in? Ultimately, moral courage thrives on empathy and kindness because it allows us to better understand the perspective of others. Without empathy and kindness, neither side will feel as though they are being heard and the result will be further polarization and conflict.
One day in your twilight years, as you're recounting your story to yourself, you will come to realize that success is not measured in years of age, but rather, by the good you've done with the time you were given," he continued. "Make sure that you write yourself a really great story."
The President's Medal was presented to Our Father's House, an agency that serves homeless individuals and families in North Central Massachusetts.
"For 35 years, Our Father's House has committed itself to serving the most vulnerable among us – the homeless," President Lapidus said. "Its visionary founders purchased a city-owned property on Lunenburg Street and renovated it to become the first homeless emergency shelter in Northern Worcester County. In the intervening decades, it has expanded its scope from providing a bed and a meal as a shelter of last resort into a comprehensive agency offering case management services to the homeless. Last year alone, Our Father's House provided shelter and transitional housing to 950 individuals and families, including recently taking control of a local food pantry that has already served nearly 1,400 members of our community."
Our Father's House Executive Director Judith Nest-Pasierb accepted the medal on the agency's behalf.
Valedictorian Kristen Ann Windoloski, a mathematics major who received a full scholarship to graduate school, encouraged her fellow graduates to consider how they've grown in their time at Fitchburg State.
"Were you initially shy, insecure, or anxious? Look at us now," she said. "Our personal growth between our first and last days here is evident. We are wiser, stronger, and more confident. We left our comfort zones and sought adventure and challenge. Pursuing a college education was a risk in itself, but because we took it, we leave here with knowledge and memories that will last a lifetime."
At the Graduate Commencement ceremony, the Graduate Student Leadership Award was presented to Michelle Downey, who completed her master's degree in special education.
Downey's road to Fitchburg State came as she changed careers from working in textbook sales.
"From my sales background, I had the benefit of getting to work with professors from colleges all over the state," Downey said. "I chose Fitchburg State simply because of the professors I met here. They were the best. They advocated for their students, helped foster relationships with colleagues and, ultimately, led me to fall in love with teaching."
She urged her fellow graduates to follow the examples of people who have shaped the world by giving people hope, from Malala Yousafzai to Martin Luther King Jr.
"Our graduate education at Fitchburg State has prepared us for new professional challenges; now it's our job to give people hope," she said. "Use all of the things we've learned in getting our graduate degrees, and be that person who changes the world".
Photo galleries from both ceremonies are posted on the University's Facebook page.
Members of Fitchburg State University's Class of 2018—and their guests—were treated to inspiring words of wisdom at the spring commencement exercises. More than 700 degrees were conferred at the graduate and undergraduate ceremonies.