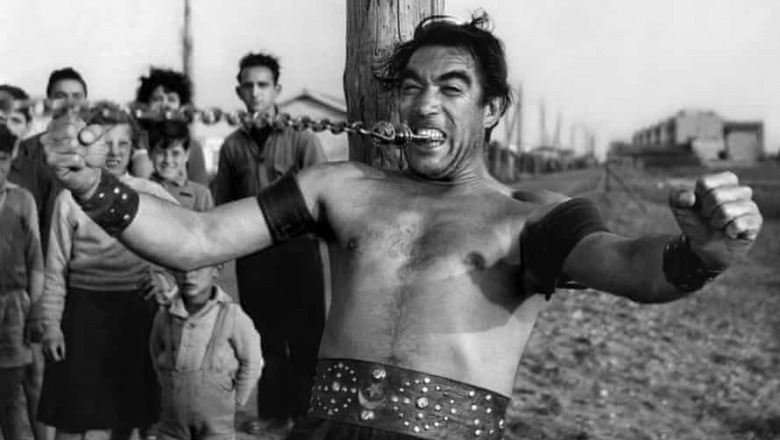 Fitchburg State University's Center for Italian Culture will take a closer look at the works of celebrated filmmaker Federico Fellini with a series of virtual programs that will let audiences explore the work through the eyes of author and lecturer Fred Plotkin.
"Fellini 101: Conversations with Fred Plotkin" will start at 4 p.m. Sunday, May 2, with a presentation on La Strada (1954). The series continues at 4 p.m. Sunday, May 9 with a discussion of I Vitelloni (1953), and concludes at 4 p.m. Sunday, May 16 with a look at Amarcord (1973).
This series is presented with the generous support of Fitchburg State University's Center for Italian Culture and the Sandro and Lillian Clementi Lecture Fund, in collaboration with the Amelia V. Gallucci-Cirio Library at Fitchburg State University, the Fitchburg Public Library and the Leominster Public Library.
The first event will be preceded by a recorded introduction to this series and the first film, La Strada, by our host and guide, Fred Plotkin. A link to this recorded introduction will be made available by Sunday, April 25, so that participants will have a week to screen the series introduction and watch the first film on their own prior to the discussion of La Strada on May 2. At the end of the first discussion, Plotkin will introduce the second film, I Vitelloni, and send participants on their way to screen that film during the following week in anticipation of the second meeting on Sunday, May 9. The third film, Amarcord, will be discussed on Sunday, May 16.
Visits from Plotkin, a celebrated writer on opera, food, and all things Italian, have become a Fitchburg State tradition, including more than 10 years of presentations where he guided visitors on culinary tours of Italy. This virtual event will allow his local fans another opportunity to learn about another treasured cultural export from Italy, that being the cinema of Federico Fellini.
The films in the series will be available to stream for free to Fitchburg State students, faculty and staff members, and are also available through local libraries and streaming services.
Information on how to join the discussions is below, and additional information can be found online at http://fitchburgstate.edu/fellini:
4 p.m. Sunday, May 2: La Strada
4 p.m. Sunday, May 9: I Vitelloni
4 p.m. Sunday, May 16: Amarcord