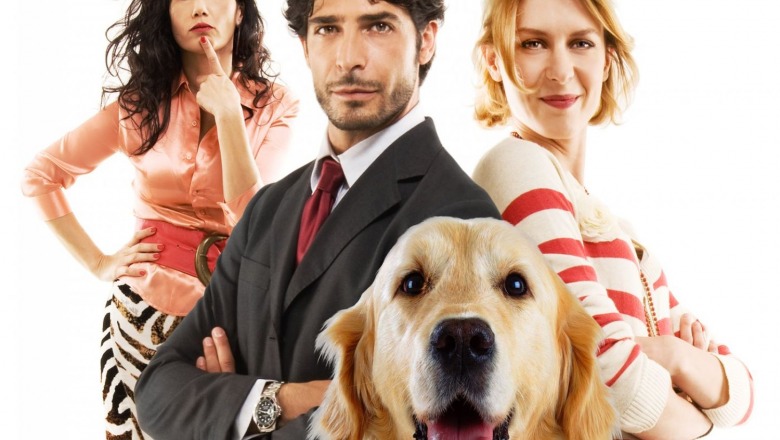 The Center for Italian Culture at Fitchburg State University, celebrating its 20th anniversary in 2021, will hold an Italian film festival on campus this fall.
The Festival del cinema italiano opens with Italo (2014) at 3:30 p.m. Wednesday, Sept. 22 in Kent Recital Hall in the Conlon Fine Arts Building, 367 North St. Although it might sound like a fairy tale, Italo presents the true story of a stray dog who arrived in the Sicilian town of Scicli in 2008, several years after a young child had been tragically killed there by a pack of wild dogs and the community had undertaken a crusade against the dogs, banning them entirely. Despite their initial resistance to the newcomer, Italo soon became so conspicuous in attending all of the town's activities – school, Sunday mass, weddings, funerals, festivals, and even pizza night at the local pizzeria – that the dog became a beloved member of the community. This endearing Italian comedy was written and directed by Alessia Scarso and was her first feature film.
The series continues with Noi eravamo (2017) at 3:30 p.m. Wednesday, Oct. 20, also in Kent Recital Hall in the Conlon Fine Arts Building, 367 North St. Set in Italy's Veneto region during the last months of the First World War, Noi eravamo ("We were") recounts the stories of the sons and daughters of Italian emigrants who returned to volunteer as pilots and nurses in Italy's struggle against the Austro-Hungarian Empire. This film was inspired by Fiorello La Guardia, the son of Italian emigrants, who was among the volunteers who came to fight in Europe, flying the famous Caproni planes, and who later became one of the most famous mayors of New York City. This unforgettable film was written by Salvatore De Mola and Leonardo Tiberi and directed by Leonardo Tiberi.
Both presentations are free and open to the public. Face coverings are required indoors on campus.

The Festival del cinema italiano is sponsored by the Center for Italian Culture with the generous support of the Italian Consulate General in Boston.