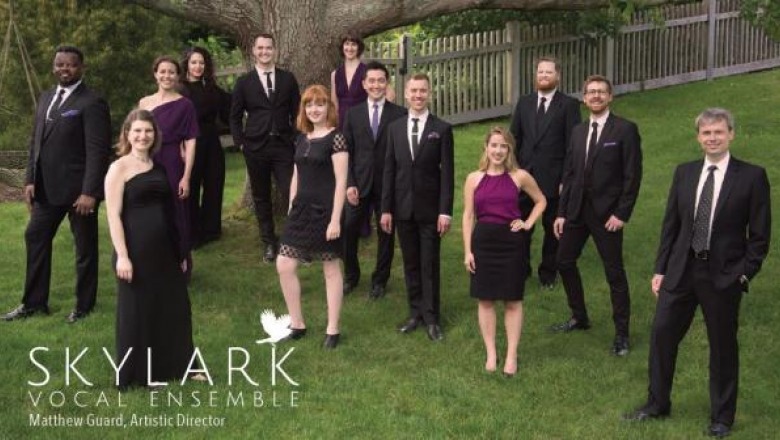 Tickets
are $28 for adults; $25 for Fitchburg State alumni, staff and senior citizens; and $5 for students.
Over the centuries, art has inspired music, and music has inspired art. In this innovative multi-faceted program, the Skylark Ensemble will offer musical reflections and reactions to the visual arts from the ancient to the modern. Skylark is excited to premiere a commissioned work by Nell Shaw Cohen, a New York City-based composer with a particular interest in the intersection of visual art and music.
Skylark, "the cream of the American crop" (BBC Radio 3), is a premier vocal ensemble of leading American vocal soloists, chamber musicians, and music educators. Skylark's dramatic performances have been described as "gripping" (The Times of London), "exquisite ... thrilling" (Gramophone Magazine), and "awe-inspiring" (Boston Music Intelligencer). With "some of Boston's best singers" (Boston Globe), the voices of Skylark "can sway you softly into calm and then all but throw you across the room with sheer harmonic force" (Thought Catalog). 
The performance, sponsored by the Center for Italian Culture at Fitchburg State University, will be preceded by a talk at 6 p.m.
Tickets can be purchased in the Weston Box Office, located inside Weston Auditorium at 353 North St., which is open 12:30 to 3:30 p.m. Thursday and Friday. The box office can be reached at 978.665.3347. Tickets are also available online.
Fitchburg State University CenterStage welcomes the vocal Skylark Ensemble to premiere the newly-commissioned "Masterpiece" at 7 p.m. Thursday, April 4 in Kent Recital Hall in the Conlon Fine Arts Building, 367 North St.