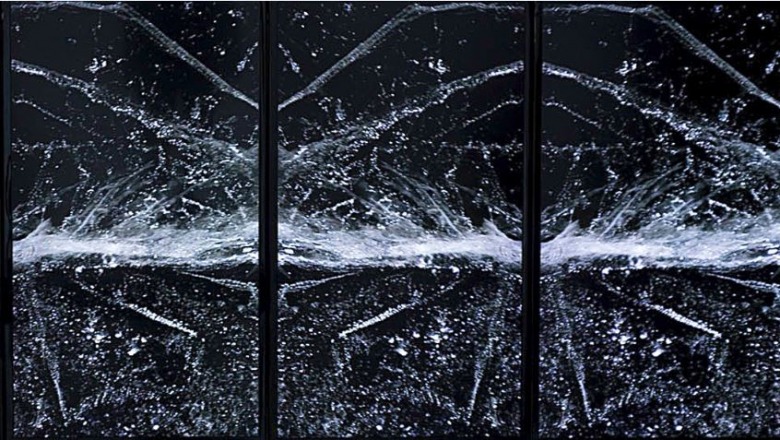 The sculptural video installations of artist Madeleine Altmann will be on display in gallery spaces at Fitchburg State University from Wednesday, Jan. 18 through Wednesday, Feb. 22 as part of the CenterStage arts and culture series.
Altmann will discuss her work at a gallery talk at 3:30 p.m. Wednesday, Feb. 1 at the Hammond Hall Art Gallery, 160 Pearl St. A reception will follow. Admission is free and open to the public.
The Fitchburg State exhibition, entitled "Refuge - Nothing is Everything," will include a display in the Hammond Hall Art Gallery as well as the media wall at Conlon Hall, 316 Highland Ave.
"Video can be a weapon for change and a tool for repair,"Altmann said. "This current body of video art provides the necessary pause, a simulacrum of calm amidst a frantic digital world. These videos invite the viewer to slow down and be absorbed by luxuriant color, captivating textures and elements of rhythm and repetition."
Altmann has been active in visual arts for most of her life. Starting in photography she moved on to television, interactive telecommunications and video art. Along the way she has exhibited her work around the world and accumulated a variety of accolades including awards from the American Film Institute and Sony Pictures.
Born and raised in Brazil and England, she moved to the USA to attend Hampshire College for undergraduate studies in film and video. She went on to receive a Master of Fine Arts degree from the San Francisco Art Institute and a master's in professional studies from New York University, where she received the Interactive Media Pioneer Award.
Along with her single channel installations, Altmann works with her husband, engineer Andreas Uthoff, to create the sculptural elements of the monitors on display. She resides with her family in the Greater Boston area.
Altmann delves into the intersection of nature, technological change, and visual representation. Building on a diverse set of influences, from Henry David Thoreau to Rebecca Solnit and Bill Viola, this work strives to present a landscape of both our internal and external worlds. We see a simple walk through the woods with a dog as the cosmic experience, echoing the belief that local is universal. Reiterated in the six-panel piece called "Black Ice," the microscopic is the macroscopic.
Many of the works take sculptural forms. Various technologies like pro-grade media players, embedded raspberry pi computers, 4K or HD displays, obsolete CRT monitors and discarded computer screens from the e-waste pile are all imbued with timeless landscapes and ritualistic experiences.