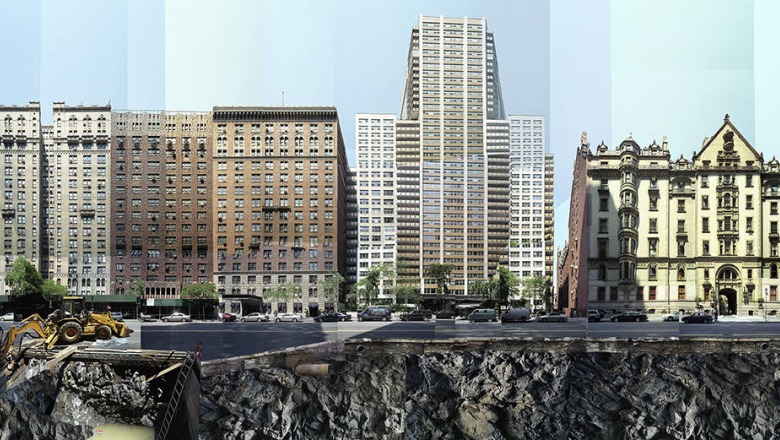 The Fitchburg State University CenterStage arts and culture series presents a new exhibit by artist Jonathon Wells in the Hammond Hall Art Gallery.
Trained as both a fine art photographer and as a geologist, Jonathon Wells has created scientifically accurate photo-geologic composites with both surface and subsurface views since 2002. He continues to build the existing Location, Environmental, and Extraction series at sites around the world where he identifies a thought-provoking intersection of land use and underlying geology.
Wells will discuss his work at a gallery talk at 3:30 p.m. Wednesday, Oct. 26. Refreshments will be served.
"In these works, I offer the opportunity to 'step back' and contemplate a greater context of the world we live in," Wells said. "In the beginning, I sought to show, through my art, the human marks I have witnessed as a geologist — a water well, a leaking underground gasoline tank. Later, I was drawn to expand the view to greater depths (up to four miles). Recently, I have been fascinated by the geologic scale of time represented by the rock layers (up to 1.3 billion years). Throughout my creative process, I am driven to explore a deeper connection to the Earth below the surface — that is the foundation for life above."
Wells' artistic process takes months of study and investigation. First, he searches for both landscapes and geologic frameworks that intrigue him.
He might spend days documenting a single city block. To visualize the substrata, Wells will turn to old and new geologic surveys and maps, to utility maps and geologic field guides. He'll pull off roadways to photograph rock exposures, follow road workers and underground cable repairs with his camera, waiting for an exposed opening — a "window" — that will allow him to capture a glimpse of what lies below us. Finally, he creates the photo-geologic composite digitally, combining a documented landscape with the substrata below.
Wells' work will be on display in the Hammond Hall Art Gallery through the end of the fall semester. Learn more about the artist at earth-exposure.com, and follow the CenterStage arts and culture series at fitchburgstate.edu/centerstage.