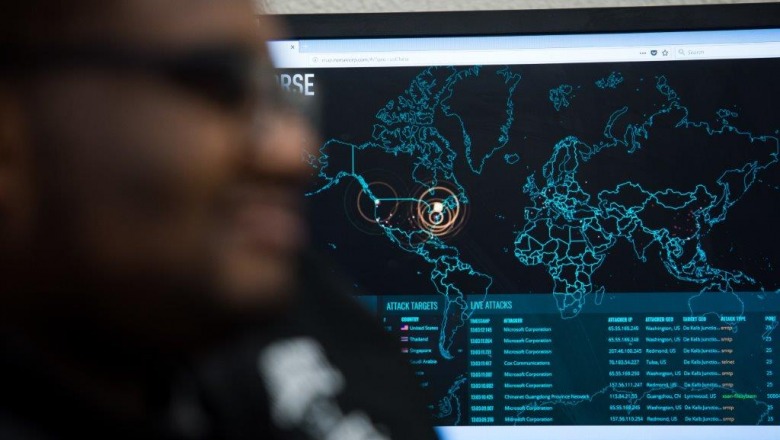 Aside from "cryptocurrency," the term "cybersecurity" might just be the biggest buzz phrase right now. But unlike crypto, the need for cybersecurity and the entire industry supporting it, is only going to continue rising. In fact, according to Massachusetts Technology Collaborative, it is the "fastest growing tech sector in the world" and will most likely impact many aspects of our day to day lives as well as the world we live in, from here on out. There probably aren't many people who haven't heard of Solar Winds or the Colonial Pipeline hack that occurred recently shutting off much of the country's gasoline supply, all the while taking a major U.S. corporation to its knees in exchange for a hefty ransom (which was paid). 
"These are not one-off actions and we can only expect to see more and more of them, which is why every industry needs folks who know how to recognize and stop an attack in its tracks," said Bash Kazi, CEO of Cyber Range Solutions (CRS). 
CRS is partnering with the Center for Professional Studies (CPS) at Fitchburg State University on its comprehensive cybersecurity programs.
In addition to the cybersecurity concentration offered within Fitchburg State's undergraduate program as part of the computer information systems major, the CPS is now offering professional development courses in cybersecurity to support local businesses, industry leaders, organizations and cyber startups with their cybersecurity needs. As the newest contributor to the Commonwealth's expansive IT ecosystem, Fitchburg State aims to become a local leader in growing cyber talent and training those already employed in this ever expanding workforce sector. This will ensure that industry standards of training and cyber competency are not only met, but surpassed.  
"We have now gotten to the point where cyber-attacks have become the new normal," Kazi continued. "Just like COVID-19 affected all of our lives and steps were taken to limit its implications, the same principles must now be applied to fending off cyber-crimes. These tactics must take root not only in business and within government but within education. Massachusetts is lucky to have an institution like Fitchburg State address the gap in cybersecurity education by injecting this critical curriculum into its extensive catalog of coursework. Now, students, businesses and government entities can take steps to enhance their knowledge and ability to fend off the inevitable cyber crimes that will continue to plague our lives."
Fitchburg State's cybersecurity courses will offer students an engaging hands-on experience in their state-of-the-art Cyber Range, where students enter simulated real-life cyber-attack scenarios. These 100% online trainings are led by instructors who are cyber industry veterans, poised to provide valuable insight and lessons on applying the curriculum to on-the-job practices. The four-course program aims to advance the cyber career of anyone who enrolls and offers unique training so that students learn how to respond to threats in a training environment rather than while on the job. Cyber ranges are being actively used in higher education, military agencies, government agencies, and private corporations to focus on building competencies, capabilities and preparedness for cybersecurity education. Ranges are also essential in replicating institutional infrastructures for cybersecurity testing and to safely further cybersecurity research (Taylor, 2021).
In 2020, (ISC)2, an international nonprofit dedicated to conducting in-depth research on the cybersecurity profession, conducted a Cybersecurity Workforce Study and found that organizations that find a way to contribute to an employee's continued education "at all stages" built robust and supported teams. The study found 63% of cybersecurity professionals were pursuing or planning to pursue additional security-related certification. In the field of cybersecurity, it is critical to stay up-to-date on the latest technology. Therefore, many in the industry see the importance in taking additional coursework in their field and many earn multiple credentials throughout their career ((ISC)2, 2020). 
The Commonwealth of Massachusetts is consistently ranked among the highest growth states for new IT firms and expansion into the cyberspace realm (Massachusetts Technology Collaborative, 2021).  In fact, there are over 170 companies in Massachusetts that focus entirely on cybersecurity products and services. In the last few years, both the New York Times and Forbes have cited Cybersecurity Ventures estimate that there is an estimated shortage of about 3.5 million cybersecurity professionals at the moment, and though we have come up with technologies to aid us in keeping the world's data safer, there is really no replacement for highly certified and trained professionals (Sayegh, 2020). This means that there are a growing number of opportunities and potential out there for job seekers and folks looking to advance in the cybersecurity field.
Fitchburg State University offers several courses for professionals at various levels looking to advance their cybersecurity careers in fintech, healthcare, education, manufacturing, defense, life sciences, and beyond.  
Visit the CPS website to learn more about upcoming cybersecurity courses.
Have additional questions or are interested in customized training for your staff?  Email our Center for Professional Studies at cps@fitchburgstate.edu or call the office at 978-665-3636.