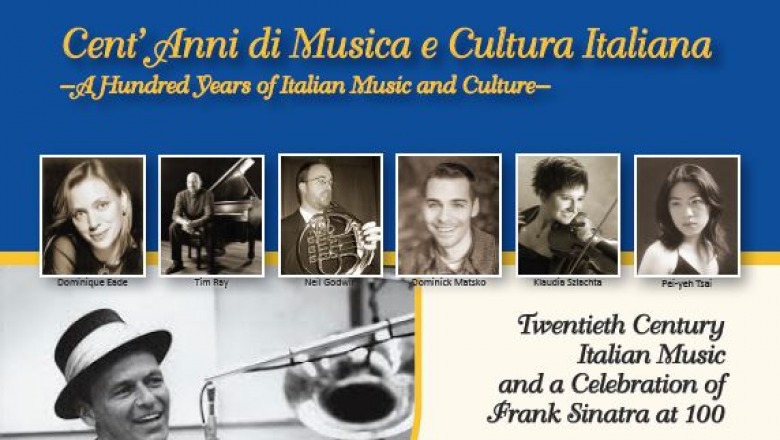 The celebration, dubbed Canti e Cantici: Cent' Anni di Musica e Cultura Italiana (A Hundred Years of Italian Music and Culture), culminates in a free concert at 7 p.m. Thursday, Nov. 5 at Kent Recital Hall in the Conlon Fine Arts Building, 367 North St. The concert will include rarely performed music by modernists such as Alfredo Casella, Goffredo Petrassi, and Giacinto Scelsi, and the premiere of a short new piece by Professor Michele Caniato for baritone, piano, violin, and horn on a text by Giacomo Leopardi. 
The second half of the concert will celebrate the 100th birthday of Frank Sinatra, joining celebrations and exhibits around the country in paying homage to Ol' Blue Eyes and his musical legacy. Sinatra would have loved the stellar singer Dominique Eade, and her equally extraordinary pianist Tim Ray. 
The free concert is a designated Music for Food event, in which donations will be collected at the door to benefit local food pantries.
Other upcoming CIC events include a screening of the acclaimed film "The Man with the Golden Arm" (1955) at 2:30 p.m. Wednesday, Oct. 14, in Kent Recital Hall. Faculty member Wayne Munson will introduce the film, directed by Otto Preminger, which stars Sinatra as a strung-out junkie who deals with daily demoralizing drug addiction while his disabled wife and card sharks continue to pull him down. Kim Novak also stars. Admission is free.
At 2 p.m. Wednesday, Oct. 21, in Kent Recital Hall, the community is invited to the faculty talk "The Reluctant Migrants: Italians in America." Professor Teresa Fava Thomas will discuss migration from northern Italy to central Massachusetts, the experiences of Italians in Massachusetts before the First World War, as well as their wartime experiences in Italy and America.
There will also be a faculty talk on Italian poetry at 3:30 p.m. Wednesday, Oct. 28 at Kent Recital Hall, featuring Professor Rala Diakite. Discover some of the most beautiful Italian poems of the modern era, and learn how words and musicality have charted a rapidly changing world. The talk will include readings in Italian and English, as well as audience participation in a poetic activity.
On Friday, Oct. 30 at 11 a.m. and 2 p.m. in Kent Recital Hall there will be musical workshops featuring Pei-yeh Tsai on piano and composer Michele Caniato. The workshops will overview and demonstrate playing techniques, compositional process, and the interaction of performer and composer.
The Center for Italian Culture at Fitchburg State University celebrates its 15th year with a host of events in October and November, including a concert celebrating Italian music from the past 100 years – and the 100th birthday of Frank Sinatra.